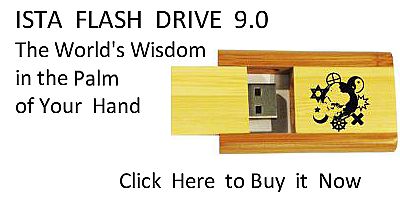 Sacred Texts
Islam
Index
Hypertext Qur'an
Unicode
Palmer
Pickthall
Yusuf Ali English
Rodwell
Sūra LXVIII.: Qalam, or the Pen, or Nūn. Index
Previous
Next
---


The Holy Quran, tr. by Yusuf Ali, [1934], at sacred-texts.com
---
Sūra LXVIII.: Qalam, or the Pen, or Nūn.
Section 1

1. Noon waalqalami wama yasturoona
1. Nūn. By the Pen
And by the (Record)
Which (men) write,—
---

2. Ma anta biniAAmati rabbika bimajnoonin
2. Thou art not,
By the grace of thy Lord,
Mad or possessed.
---

3. Wa-inna laka laajran ghayra mamnoonin
3. Nay, verily for thee
Is a Reward unfailing:
---

4. Wa-innaka laAAala khuluqin AAatheemin
4. And thou (standest)
On an exalted standard
Of character.
---

5. Soon wilt thou see,
And they will see,
---

6. Which of you is
Afflicted with madness.
---

7. Inna rabbaka huwa aAAlamu biman dalla AAan sabeelihi wahuwa aAAlamu bialmuhtadeena
7. Verily it is thy Lord
That knoweth best,
Which (among men)
Hath strayed from His Path:
And He knoweth best
Those who receive
(True) Guidance.
---

8. Fala tutiAAi almukaththibeena
8. So hearken not
To those who
Deny (the Truth),
---

9. Waddoo law tudhinu fayudhinoona
9. Their desire is that
Thou shouldst be pliant:
So would they be pliant.
---

10. Wala tutiAA kulla hallafin maheenin
10. Heed not the type
Of despicable man,—
Ready with oaths,
---

11. Hammazin mashsha-in binameemin
11. A slanderer, going about
With calumnies,
---

12. MannaAAin lilkhayri muAAtadin atheemin
12. (Habitually) hindering (all) good,
Transgressing beyond bounds,
Deep in sin,
---

13. AAutullin baAAda thalika zaneemin
13. Violent (and cruel),—
With all that, base-born,—
---

14. An kana tha malin wabaneena
14. Because he possesses
Wealth and (numerous) sons.
---

15. Itha tutla AAalayhi ayatuna qala asateeru al-awwaleena
15. When to him are rehearsed
Our Signs,
"Tales of the Ancients",
He cries!
---

16. Sanasimuhu AAala alkhurtoomi
16. Soon shall We brand
(The beast) on the snout!
---

17. Inna balawnahum kama balawna as-haba aljannati ith aqsamoo layasrimunnaha musbiheena
17. Verily We have tried them
As We tried the People
Of the Garden,
When they resolved to gather
The fruits of the (garden)
In the morning,
---

18. But made no reservation,
("If it be God's Will").
---

19. Fatafa AAalayha ta-ifun min rabbika wahum na-imoona
19. Then there came
On the (garden)
A visitation from thy Lord,
(Which swept away) all around,
While they were asleep.
---

20. So the (garden) became,
By the morning, like
A dark and desolate spot,
(Whose fruit had been gathered).
---

21. As the morning broke,
They called out,
One to another,—
---

22. Ani ighdoo AAala harthikum in kuntum sarimeena
22. "Go ye to your tilth
(Betimes) in the morning,
If ye would gather
The fruits."
---

23. Faintalaqoo wahum yatakhafatoona
23. So they departed, conversing
In secret low tones, (saying)—
---

24. An la yadkhulannaha alyawma AAalaykum miskeenun
24. "Let not a single indigent
Person break in upon you
Into the (garden) this day."
---

25. Waghadaw AAala hardin qadireena
25. And they opened the morning,
Strong in an (unjust) resolve.
---

26. Falamma raawha qaloo inna ladalloona
26. But when they saw
The (garden), they said:
"We have surely lost our way:
---

27. "Indeed we are shut out
(Of the fruits of our labour)!"
---

28. Qala awsatuhum alam aqul lakum lawla tusabbihoona
28. Said one of them,
More just (than the rest):
"Did I not say to you,
"Why not glorify (God)?"
---

29. Qaloo subhana rabbina inna kunna thalimeena
29. They said: "Glory
To our Lord! Verily we
Have been doing wrong!"
---

30. Faaqbala baAAduhum AAala baAAdin yatalawamoona
30. Then they turned, one
Against another, in reproach.
---

31. Qaloo ya waylana inna kunna tagheena
31. They said: "Alas for us!
We have indeed transgressed!
---

32. AAasa rabbuna an yubdilana khayran minha inna ila rabbina raghiboona
32. "It may be that our Lord
Will give us in exchange
A better (garden) than this:
For we do turn to Him
(In repentance)!"
---

33. Kathalika alAAathabu walaAAathabu al-akhirati akbaru law kanoo yaAAlamoona
33. Such is the Punishment
(In this life); but greater
Is the Punishment
In the Hereafter,—
If only they knew!