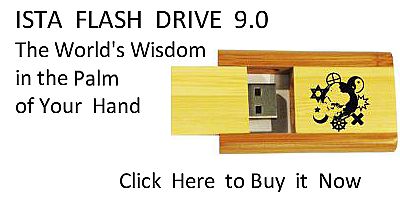 Sacred Texts
Islam
Index
Hypertext Qur'an
Unicode
Palmer
Pickthall
Yusuf Ali English
Rodwell
Sūra XXXVIII.: Ṣād (being one of the Abbreviated Letters). Index
Previous
Next
---


The Holy Quran, tr. by Yusuf Ali, [1934], at sacred-texts.com
---
Sūra XXXVIII.: Ṣād (being one of the Abbreviated Letters).
Section 5
---

65. Qul innama ana munthirun wama min ilahin illa Allahu alwahidu alqahharu
65. Say: "Truly am I
A Warner: no god
Is there but the One
God, Supreme and Irresistible,—
---

66. Rabbu alssamawati waal-ardi wama baynahuma alAAazeezu alghaffaru
66. "The Lord of the heavens
And the earth, and all
Between,—Exalted in Might,
Able to enforce His Will,
Forgiving again and again."
---

67. Qul huwa nabaon AAatheemun
67. Say: "That is a Message
Supreme (above all),—
---

68. "From which ye
Do turn away!
---

69. Ma kana liya min AAilmin bialmala-i al-aAAla ith yakhtasimoona
69. "No knowledge have I
Of the Chiefs on high,
When they discuss
(Matters) among themselves.
---

70. In yooha ilayya illa annama ana natheerun mubeenun
70. "Only this has been revealed
To me: that I am
To give warning
Plainly and publicly."
---

71. Ith qala rabbuka lilmala-ikati innee khaliqun basharan min teenin
71. Behold, thy Lord said
To the angels: "I am
About to create man
From clay:
---

72. Fa-itha sawwaytuhu wanafakhtu feehi min roohee faqaAAoo lahu sajideena
72. "When I have fashioned him
(In due proportion) and breathed
Into him of My spirit,
Fall ye down in obeisance
Unto him."
---
73. Fasajada almala-ikatu kulluhum ajmaAAoona
73. So the angels prostrated themselves,
All of them together:
---

74. Illa ibleesa istakbara wakana mina alkafireena
74. Not so Iblīs: he
Was haughty, and became
One of those who reject Faith.
---

75. Qala ya ibleesu ma manaAAaka an tasjuda lima khalaqtu biyadayya astakbarta am kunta mina alAAaleena
75. (God) said: "O Iblīs!
What prevents thee from
Prostrating thyself to one
Whom I have created
With My hands?
Art thou haughty?
Or art thou one
Of the high (and mighty) ones?"
---

76. Qala ana khayrun minhu khalaqtanee min narin wakhalaqtahu min teenin
76. (Iblīs) said: "I am better
Than he: Thou createdst
Me from fire, and him
Thou createdst from clay."
---

77. Qala faokhruj minha fa-innaka rajeemun
77. (God) said: "Then get thee
Out from here: for thou
Art rejected, accursed.
---

78. Wa-inna AAalayka laAAnatee ila yawmi alddeeni
78. "And My Curse shall be
On thee till the Day
Of Judgment."
---

79. Qala rabbi faanthirnee ila yawmi yubAAathoona
79. (Iblīs) said: "O my Lord!
Give me then respite
Till the Day
The (dead) are raised."
---

80. Qala fa-innaka mina almunthareena
80. (God) said: "Respite then
Is granted thee—
---

81. Ila yawmi alwaqti almaAAloomi
81. "Till the Day
Of the Time Appointed."
---

82. Qala fabiAAizzatika laoghwiyannahum ajmaAAeena
82. (Iblīs) said: "Then,
By Thy Power, I will
Put them all in the wrong,—
---

83. Illa AAibadaka minhumu almukhlaseena
83. "Except Thy Servants
Amongst them, sincere
And purified (by Thy grace)."
---

84. Qala faalhaqqu waalhaqqa aqoolu
84. (God) said: "Then
It is just and fitting—
And I say what is
Just and fitting—
---

85. Laamlaanna jahannama minka wamimman tabiAAaka minhum ajmaAAeena
85. "That I will certainly fill
Hell with thee
And those that follow thee,—
Every one."
---

86. Qul ma as-alukum AAalayhi min ajrin wama ana mina almutakallifeena
86. Say: "No reward do I ask
Of you for this (Qur-ān),
Nor am I a pretender.
---

87. In huwa illa thikrun lilAAalameena
87. "This is no less than
A Message to (all)
The Worlds.
---

88. WalataAAlamunna nabaahu baAAda heenin
88. "And ye shall certainly
Know the truth of it (all)
After a while."