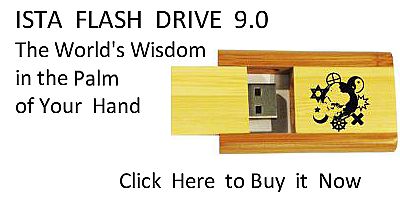 Sacred Texts
Islam
Index
Hypertext Qur'an
Unicode
Palmer
Pickthall
Yusuf Ali English
Rodwell
Sūra XXXVIII.: Ṣād (being one of the Abbreviated Letters). Index
Previous
Next
---


The Holy Quran, tr. by Yusuf Ali, [1934], at sacred-texts.com
---
Sūra XXXVIII.: Ṣād (being one of the Abbreviated Letters).
Section 4
---

41. Waothkur AAabdana ayyooba ith nada rabbahu annee massaniya alshshaytanu binusbin waAAathabin
41. Commemorate Our Servant Job.
Behold he cried to his Lord:
"The Evil One has afflicted
Me with distress and suffering!"
---

42. Orkud birijlika hatha mughtasalun baridun washarabun
42. (The command was given:)
"Strike with thy foot:
Here is (water) wherein
To wash, coal and refreshing,
And (water) to drink."
---

43. Wawahabna lahu ahlahu wamithlahum maAAahum rahmatan minna wathikra li-olee al-albabi
43. And We gave him (back)
His people, and doubled
Their number,—as a Grace
From Ourselves, and a thing
For commemoration, for all
Who have Understanding.
---

44. Wakhuth biyadika dighthan faidrib bihi wala tahnath inna wajadnahu sabiran niAAma alAAabdu innahu awwabun
44. "And take in thy hand
A little grass, and strike
Therewith: and break not
(Thy oath)." Truly We found
Him full of patience and constancy.
How excellent in Our service!
Ever did he turn (to Us)!
---

45. Waothkur AAibadana ibraheema wa-ishaqa wayaAAqooba olee al-aydee waal-absari
45. And commemorate Our Servants
Abraham, Isaac, and Jacob,
Possessors of Power and Vision.
---

46. Inna akhlasnahum bikhalisatin thikra alddari
46. Verily We did choose them
For a special (purpose)—
Proclaiming the Message
Of the Hereafter.
---

47. Wa-innahum AAindana lamina almustafayna al-akhyari
47. They were, in Our sight,
Truly, of the company
Of the Elect and the Good.
---

48. Waothkur ismaAAeela wa-ilyasaAAa watha alkifli wakullun mina al-akhyari
48. And commemorate Ismā'īl,
Elisha, and Ẓul-Kifl:
Each of them was
Of the company of the Good.
---

49. Hatha thikrun wa-inna lilmuttaqeena lahusna maabin
49. This is a Message
(Of admonition): and verily,
For the Righteous,
Is a beautiful place
Of (final) Return,—
---

50. Jannati AAadnin mufattahatan lahumu al-abwabu
50. Gardens of Eternity,
Whose doors will (ever)
Be open to them;
---

51. Muttaki-eena feeha yadAAoona feeha bifakihatin katheeratin washarabin
51. Therein will they
Recline (at ease);
Therein can they
Call (at pleasure)
For fruit in abundance,
And (delicious) drink;
---

52. WaAAindahum qasiratu alttarfi atrabun
52. And beside them will be
Chaste women restraining
Their glances, (companions)
Of equal age.
---

53. Hatha ma tooAAadoona liyawmi alhisabi
53. Such is the Promise
Made to you
For the Day of Account!
---

54. Inna hatha larizquna ma lahu min nafadin
54. Truly such will be
Our Bounty (to you);
It will never fail;—
---

55. Hatha wa-inna lilttagheena lasharra maabin
55. ''Yea, such! But
For the wrong-doers
Will be an evil place
Of (final) Return!—
---

56. Jahannama yaslawnaha fabi/sa almihadu
56. Hell!—they will burn
Therein,—an evil bed
(Indeed, to lie on)!—
---

57. Hatha falyathooqoohu hameemun waghassaqun
57. Yea, such!—Then
Shall they taste it,
A boiling fluid, and a fluid
Dark, murky, intensely cold!—
---

58. Waakharu min shaklihi azwajun
58. And other Penalties
Of a similar kind,
To match them!
---

59. Hatha fawjun muqtahimun maAAakum la marhaban bihim innahum saloo alnnari
59. Here is a troop
Rushing headlong with you!
No welcome for them!
Truly, they shall burn
In the Fire!
---

60. Qaloo bal antum la marhaban bikum antum qaddamtumoohu lana fabi/sa alqararu
60. (The followers shall cry
To the misleaders:)
"Nay, ye (too)! No welcome
For you! It is ye who
Have brought this upon us!
Now evil is (this) place
To stay in!"
---

61. Qaloo rabbana man qaddama lana hatha fazidhu AAathaban diAAfan fee alnnari
61. They will say: "Our Lord!
Whoever brought this upon us,—
Add to him a double
Penalty in the Fire!"
---

62. Waqaloo ma lana la nara rijalan kunna naAAudduhum mina al-ashrari
62. And they will say:
"What has happened to us
That we see not men
Whom we used to number
Among the bad ones?
---

63. Attakhathnahum sikhriyyan am zaghat AAanhumu al-absaru
63. "Did we treat them
(As such) in ridicule,
Or have (our) eyes
Failed to perceive them?"
---

64. Inna thalika lahaqqun takhasumu ahli alnnari
64. Truly that is just and fitting,—
The mutual recriminations
Of the People of the Fire!