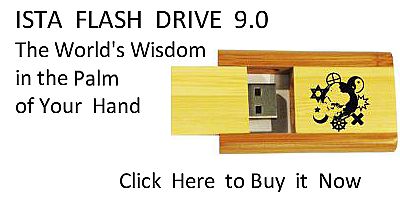 Sacred Texts
Islam
Index
Hypertext Qur'an
Unicode
Palmer
Pickthall
Yusuf Ali English
Rodwell
Sūra XXXVII.: Ṣāffāt, or Those Ranged in Ranks. Index
Previous
Next
---


The Holy Quran, tr. by Yusuf Ali, [1934], at sacred-texts.com
---
Sūra XXXVII.: Ṣāffāt, or Those Ranged in Ranks.
Section 2
---

22. Ohshuroo allatheena thalamoo waazwajahum wama kanoo yaAAbudoona
22. "Bring ye up",
It shall be said,
"The wrong-doers
And their wives,
And the things they worshipped—
---

23. Min dooni Allahi faihdoohum ila sirati aljaheemi
23. "Besides God,
And lead them to the Way
To the (Fierce) Fire!
---

24. Waqifoohum innahum masooloona
24. "But stop them,
For they must be asked:
---

25. "What is the matter
With you that ye
Help not each other?"
---

26. Bal humu alyawma mustaslimoona
26. Nay, but that day they
Shall submit (to judgment);
---

27. Waaqbala baAAduhum AAala baAAdin yatasaaloona
27. And they will turn to
One another, and question
One another.
---

28. Qaloo innakum kuntum ta/toonana AAani alyameeni
28. They will say: "It was ye
Who used to come to us
From the right hand
(Of power and authority)!"
---

29. Qaloo bal lam takoonoo mu/mineena
29. They will reply: "Nay, ye
Yourselves had no Faith!
---

30. Wama kana lana AAalaykum min sultanin bal kuntum qawman tagheena
30. "Nor had we any authority
Over you. Nay, it was
Ye who were a people
In obstinate rebellion!
---

31. Fahaqqa AAalayna qawlu rabbina inna latha-iqoona
31. "So now has been proved true,
Against us, the Word
Of our Lord that we
Shall indeed (have to) taste
(The punishment of our sins).
---

32. Faaghwaynakum inna kunna ghaweena
32. "We led you astray: for truly
We were ourselves astray."
---

33. Fa-innahum yawma-ithin fee alAAathabi mushtarikoona
33. Truly, that Day, they will
(All) share in the Penalty.
---

34. Inna kathalika nafAAalu bialmujrimeena
34. Verily that is how We
Shall deal with Sinners.
---

35. Innahum kanoo itha qeela lahum la ilaha illa Allahu yastakbiroona
35. For they, when they were
Told that there is
No god except God, would
Puff themselves up with Pride,
---

36. Wayaqooloona a-inna latarikoo alihatina lishaAAirin majnoonin
36. And say: "What! Shall we
Give up our gods.
For the sake of
A Poet possessed?"
---

37. Bal jaa bialhaqqi wasaddaqa almursaleena
37. Nay! he has come
With the (very) Truth,
And he confirms (the Message
Of) the apostles (before him).
---

38. Innakum latha-iqoo alAAathabi al-aleemi
38. Ye shall indeed taste
Of the Grievous Penalty;—
---

39. Wama tujzawna illa ma kuntum taAAmaloona
39. But it will be no more
Than the retribution
Of (the Evil) that ye
Have wrought;—
---

40. Illa AAibada Allahi almukhlaseena
40. But the sincere (and devoted)
Servants of God,—
---

41. Ola-ika lahum rizqun maAAloomun
41. For them is a Sustenance
Determined,
---
42. Fruits (Delights); and they
(Shall enjoy) honour and dignity,
---

43. In Gardens of Felicity,
---

44. AAala sururin mutaqabileena
44. Facing each other
On Thrones (of dignity):
---

45. Yutafu AAalayhim bika/sin min maAAeenin
45. Round will be passed
To them a Cup
From a clear-flowing fountain,
---

46. Baydaa laththatin lilshsharibeena
46. Crystal-white, of a taste
Delicious to those
Who drink (thereof),
---

47. La feeha ghawlun wala hum AAanha yunzafoona
47. Free from headiness;
Nor will they suffer
Intoxication therefrom.
---

48. WaAAindahum qasiratu alttarfi AAeenun
48. And besides them will be
Chaste women, restraining
Their glances, with big eyes
(Of wonder and beauty).
---

49. Kaannahunna baydun maknoonun
49. As if they were
(Delicate) eggs closely guarded.
---

50. Faaqbala baAAduhum AAala baAAdin yatasaaloona
50. When they will turn to
One another and question
One another.
---

51. Qala qa-ilun minhum innee kana lee qareenun
51. One of them will start
The talk and say:
"I had an intimate
Companion (on the earth),
---

52. Yaqoolu a-innaka lamina almusaddiqeena
52. "Who used to say,
"What! art thou amongst those
Who bear witness to
The truth (of the Message)?
---

53. A-itha mitna wakunna turaban waAAithaman a-inna lamadeenoona
53. "When we die and become
Dust and bones, shall we
Indeed receive rewards
And punishments?"
---

54. Qala hal antum muttaliAAoona
54. (A voice) said: "Would ye
Like to look down?"
---

55. FaittalaAAa faraahu fee sawa-i aljaheemi
55. He looked down
And saw him
In the midst of the Fire.
---

56. Qala taAllahi in kidta laturdeeni
56. He said: "By God!
Thou wast little short
Of bringing me to perdition!
---

57. Walawla niAAmatu rabbee lakuntu mina almuhdareena
57. "Had it not been for
The Grace of my Lord,
I should certainly have been
Among those brought (there)!
---

58. "Is it (the case) that
We shall not die,
---

59. Illa mawtatana al-oola wama nahnu bimuAAaththabeena
59. "Except our first death,
And that we
Shall not be punished?"
---

60. Inna hatha lahuwa alfawzu alAAatheemu
60. Verily this is
The supreme achievement!
---

61. Limithli hatha falyaAAmali alAAamiloona
61. For the like of this
Let all strive,
Who wish to strive.
---

62. Athalika khayrun nuzulan am shajaratu alzzaqqoomi
62. Is that the better entertainment
Or the Tree of Zaqqūm?
---

63. Inna jaAAalnaha fitnatan lilththalimeena
63. For We have truly
Made it (as) a trial
For the wrong-doers.
---

64. Innaha shajaratun takhruju fee asli aljaheemi
64. For it is a tree
That springs out
Of the bottom of Hell-fire:
---
65. TalAAuha kaannahu ruoosu alshshayateeni
65. The shoots of its fruit-stalks
Are like the heads
Of devils:
---

66. Fa-innahum laakiloona minha famali-oona minha albutoona
66. Truly they will eat thereof
And fill their bellies therewith.
---

67. Thumma inna lahum AAalayha lashawban min hameemin
67. Then on top of that
They will be given
A mixture made of
Boiling water.
---

68. Thumma inna marjiAAahum la-ila aljaheemi
68. Then shall their return
Be to the (Blazing) Fire.
---

69. Innahum alfaw abaahum dalleena
69. Truly they found their fathers
On the wrong Path;
---

70. Fahum AAala atharihim yuhraAAoona
70. So they (too) were rushed
Down on their footsteps!
---

71. Walaqad dalla qablahum aktharu al-awwaleena
71. And truly before them,
Many of the ancients
Went astray;—
---

72. Walaqad arsalna feehim munthireena
72. But We sent aforetime,
Among them, (apostles)
To admonish them;—
---

73. Faonthur kayfa kana AAaqibatu almunthareena
73. Then see what was
The End of those who
Were admonished (but heeded not),—
---

74. Illa AAibada Allahi almukhlaseena
74. Except the sincere (and devoted)
Servants of God.