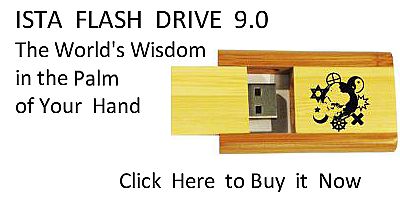 Sacred Texts
Islam
Index
Hypertext Qur'an
Unicode
Palmer
Pickthall
Yusuf Ali English
Rodwell
Sūra XXXVII.: Ṣāffāt, or Those Ranged in Ranks. Index
Previous
Next
---


The Holy Quran, tr. by Yusuf Ali, [1934], at sacred-texts.com
---
Sūra XXXVII.: Ṣāffāt, or Those Ranged in Ranks.
Section 1

1. By those who range
Themselves in ranks,
---

2. And so are strong
In repelling (evil),
---

3. And thus proclaim
The Message (of God)!
---

4. Verily, verily, your God
Is One!—
---

5. Rabbu alssamawati waal-ardi wama baynahuma warabbu almashariqi
5. Lord of the heavens
And of the earth,
And all between them,
And Lord of every point
At the rising of the sun!
---

6. Inna zayyanna alssamaa alddunya bizeenatin alkawakibi
6. We have indeed decked
The lower heaven with beauty
(In) the stars,—
---

7. Wahifthan min kulli shaytanin maridin
7. (For beauty) and for guard
Against all obstinate
Rebellious evil spirits,
---

8. La yassammaAAoona ila almala-i al-aAAla wayuqthafoona min kulli janibin
8. (So) they should not strain
Their ears in the direction
Of the Exalted Assembly
But be cast away
From every side,
---

9. Duhooran walahum AAathabun wasibun
9. Repulsed, for they are
Under a perpetual penalty,
---

10. Illa man khatifa alkhatfata faatbaAAahu shihabun thaqibun
10. Except such as snatch away
Something by stealth, and they
Are pursued by a flaming
Fire, of piercing brightness.
---

11. Faistaftihim ahum ashaddu khalqan am man khalaqna inna khalaqnahum min teenin lazibin
11. Just ask their opinion:
Are they the more difficult
To create, or the (other) beings
We have created?
Them have We created
Out of a sticky clay!
---
12. Bal AAajibta wayaskharoona
12. Truly dost thou marvel,
While they ridicule,
---

13. Wa-itha thukkiroo la yathkuroona
13. And, when they are
Admonished, pay no heed,—
---

14. Wa-itha raaw ayatan yastaskhiroona
14. And, when they see
A Sign, turn it
To mockery,
---

15. Waqaloo in hatha illa sihrun mubeenun
15. And say, "This is nothing
But evident sorcery!
---

16. A-itha mitna wakunna turaban waAAithaman a-inna lamabAAoothoona
16. "What! when we die,
And become dust and bones,
Shall we (then) be
Raised up (again)?
---

17. "And also our fathers
Of old?"
---

18. Qul naAAam waantum dakhiroona
18. Say thou: "Yea, and ye shall
Then be humiliated
(On account of your evil).
---

19. Fa-innama hiya zajratun wahidatun fa-itha hum yanthuroona
19. Then it will be a single
(Compelling) cry;
And behold, they will
Begin to see!
---

20. Waqaloo ya waylana hatha yawmu alddeeni
20. They will say, "Ah!
Woe to us! this is
The Day of Judgment!"
---

21. Hatha yawmu alfasli allathee kuntum bihi tukaththiboona
21. (A voice will say,)
"This is the Day
Of Sorting Out, whose
Truth ye (once) denied!"