Sacred Texts
Classics
Sappho
Index
Previous
Next
---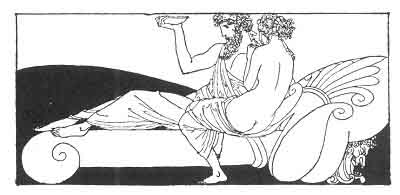 STRANGER
Stranger, go no further in the town. You'll not find younger or more expert girls at any other place besides my own. I am Sostrata, known beyond the sea.
See this one whose eyes are green as water on the grass. You do not wish her? Here are other eyes, black as the violet and hair three cubits long.
I have some better still. Xantho, open your cyclas. Stranger, her breasts are firm as quinces, touch them. And her lovely belly, you can see, bears the three Kyprian folds.
I bought her with her sister, who is not yet quite old enough for love, but who is her useful helper. By the two goddesses! you are of noble blood. Phyllis and Xantho, follow the gentleman!
---
Next: Memory of Mnasidika