Sacred Texts
Classics
Sappho
Index
Previous
Next
---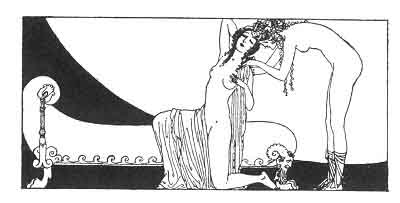 PRAYERS
What do you want? Say it. If you should wish I'll sell my last jewel, so that a watchful slave may wait upon the wishes of your eyes, upon whatever thirst your lips may have.
If our goat's milk should seem flat to you, I'll hire, as for a child, a wet-nurse with great swollen breasts to suckle you each morning of the year.
If our bed should be too hard upon your back, I'll purchase all the puffy pillows, all the silken coverlets, and all the Amathusian merchants' cloths, furred with feathers.
All. But I myself must also fill your need, and if we sleep upon the earth, the earth must be much softer to your back than the comfortable bed of any stranger.
---
Next: Eyes