Sacred Texts
Classics
Sappho
Index
Previous
Next
---
]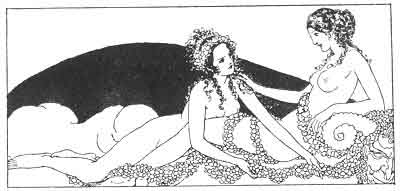 EVENING BY THE FIRE
The winter is severe, Mnasidika. Everything is cold outside our bed. Arise, however; come with me, for I have built a great fire of dead logs and split kindling wood.
We will crouch down and warm ourselves, quite nude, our hair hung down our backs, and drink milk out of the self-same cup and munch on honeyed cakes.
How sonorous and gay the fire is! Are you not too near? Your skin is getting red. Let me kiss it wherever the fire has made it hot.
I'll warm the iron amidst the burning brands and dress your hair right here. And with a burnt-out coal I'll write your name upon the wall.
---
Next: Prayers