---


Proofs of a Conspiracy, by John Robison, [1798], at sacred-texts.com
---
PROOFS
OF A
CONSPIRACY
AGAINST ALL THE
RELIGIONS AND GOVERNMENTS
OF
EUROPE,
CARRIED ON
IN THE SECRET MEETINGS
OF
FREE MASONS, ILLUMINATI,
AND
READING SOCIETIES,
COLLECTED FROM GOOD AUTHORITIES,
BY JOHN ROBISON, A. M.
PROFESSOR OF NATURAL PHILOSOPHY, AND SECRETARY TO THE ROYAL SOCIETY OF EDINBURGH.
Nam tua res agitur paries cum proximo ardet.
THE FOURTH EDITION.
TO WHICH IS ADDED, A POSTSCRIPT.
NEW-YORK:
Printed and Sold by George Forman, No. 64, Water-Street,
between Coenties and the Old-Slip.
[1798]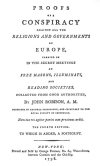 Click to enlarge
Title Page

Scanned at sacred-texts.com, November 2006. Proofed and formatted by John Bruno Hare. This text is in the public domain in the United States because it was published prior to 1923.