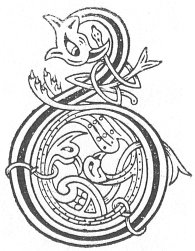 BLARAGAN reidh, fada, farsuinn,
Faileagan feile fo 'r casan,
Cairdeas Mhic De dh' ar toir dhachaidh
Gu faiche nam fuaran,
Faiche nam fuaran.
Gum bu duinte duibh gach slochd,
Gum bu sumhail duibh gach cnoc,
Gum bu clumhaidh duibh gach nochd,
Am fochar nam fuar-bheann,
Fochar ham fuar-bheann.
Comraig Pheadail agus Phoil,
Comraig Sheumais agus Eoin,
Comraig Bhride mhin 's Mhuir Oigh,
Dh' ar comhlach 's dh' ar cuallach,
O! comraig gach aon dh' an chomhl
Dh' ar comhnadh 's dh' ar cuanadh.
PASTURES smooth, long, and spreading,
Grassy meads aneath your feet,
The friendship of God the Son to bring you home
To the field of the fountains,
Field of the fountains.
Closed be every pit to you,
Smoothed be every knoll to you,
Cosy every exposure to you,
Beside the cold mountains,
Beside the cold mountains.
The care of Peter and of Paul,
The care of James and of John,
The care of Bride fair and of Mary Virgin,
To meet you and to tend you,
Oh! the care of all the band
To protect you and to strengthen you.