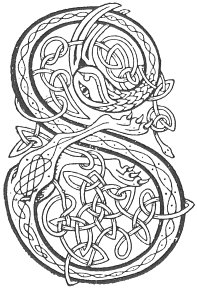 SPIORAID, tiubhair dhomh do phailteas,
Athair, tiubhair dhomh do ghliocas,
Mhic, tiubhair dhomh na m' airceas,
Iosa fo fhasga do sgeith.
Laigheam sios a nochd,
Le Trithinn mo neart,
Le Athair, le Iosa,
Le Spiorad nam feart.
SPIRIT, give me of Thine abundance,
Father, give me of Thy wisdom,
Son, give me in my need,
Jesus beneath the shelter of Thy shield.
I lie down to-night,
With the Triune of my strength,
With the Father, with Jesus,
With the Spirit of might.