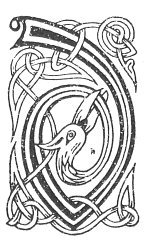 DHE, eisd ri m' urnuigh,
Lub rium do chluas,
Leig m' achan agus m' urnuigh.
T' ionnsuidh a suas.
Thig, a Righ na glorach
Da m' chomhnadh a nuas,
A Righ na bith 's na trocair,
Le comhnadh an Uain,
A Mhic na Muire Oighe
Da m' chomhnadh le buadh,
A Mhic na Muire mine
Is finne-ghile snuadh.
GOD, listen to my prayer,
Bend to me Thine ear,
Let my supplications and my prayers
Ascend to Thee upwards,
Come, Thou King of Glory,
To protect me down,
Thou King of life and mercy
With the aid of the Lamb.
Thou Son of Mary Virgin
To protect me with power,
Thou Son of the lovely Mary
Of purest fairest beauty.