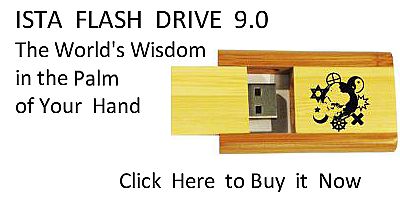 Sacred Texts
Native American
Southwest
Index
Previous
Next
---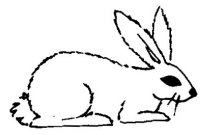 Coyote and Rabbit
ONE DAY rabbit was out on a plain eating when Coyote came up. "I am very hungry," said Coyote. "I am going to eat you."
"No, wait here and I will bring you a really good meal of chicken. They are cooking it over there." Rabbit ran off toward the monte and Coyote happily waited, singing in anticipation of a fine meal. He waited a long time. At last he became angry and followed the tracks of Rabbit.
He found Rabbit in an arroyo standing by the cliff wall holding his forepaws against the cliff. "What are you doing?" asked Coyote.
"I am holding this cliff up," said Rabbit. At that moment a little rock fell and he held the cliff up harder than ever. "Here," he said to Coyote, "you hold it up while I go and get the food I told you about. It is almost ready."
Coyote put his paws against the cliff, pushing desperately while Rabbit ran off. Another rock fell and Coyote pushed all the harder. He waited for a long time. He was very tired and terribly hungry. Suddenly he let go of the cliff and ran as fast as he could. Nothing happened. He followed the tracks of Rabbit.
'Now I really am going to eat you!"
"Just sit down," said Rabbit. "They are going to bring that food right here. They'll be here soon." So Coyote sat down, looking hungrily at Rabbit. Rabbit jumped up saying, "I'll hurry them. You wait here just a minute." He ran off. Coyote waited.
Meanwhile, Rabbit set fire all around the edges of the thicket. Then he ran back to Coyote. "Hear the cohetes?" he shouted to Coyote. "The fiesta is coming. They are bringing you a wonderful meal." Then Rabbit ran away as fast as he could to avoid the fire. Coyote happily danced and sang as he waited for his meal. The fire soon surrounded him and he was burned up.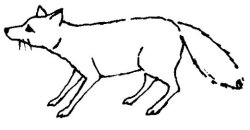 The above incident and others form a cycle of tales which has a wide distribution among the Latin Americans of Mexico and Southwestern United States (Espinosa 1914b: 211-212). Also, incidents featuring various animals are found among widely separated American Indian groups as, for instance, the Tepecanos of Mexico (Mason and Espinosa 1914: 204), the Cochiti of New Mexico (Benedict 1935: 308), and the Papagos of Arizona (Jane Chesky, Field Notes 1942).
---
Next: Heron and Fox