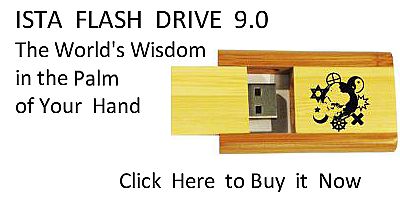 Sacred Texts
Native American
Southwest
Index
Previous
Next
---
PLATE 5


Click to enlarge
Plate 5, Figure 1

FIGURE 1. Kuapichani katsina. Wearing full katsina costume; eagle feathers (white with black tips), stick (black) with humming bird (red); parrot-feather topknot (red and green); ears (brown) painted as usual the color of the forehead (brown); spruce collar (green); turquoise earrings; abalone-shell pendant; coral necklaces (red); black torso and white lower body represent night and day; arm bands of buckskin with spruce (green); green buckskin belt; kashpa (black and white), ceremonial sash with tassels; hotsini (white with black border), cotton kilt; in right hand gourd rattle (quartered in orange, red, green, blue); in left hand flute (striped red and white with zigzag design in green, black, and white) with gourd (center, orange with cross; edge, white with green design) on the end; garters (blue) with turtle-shell rattle (brown); moccasins of buckskin (white with red toes).


Click to enlarge
Plate 5, Figure 2

FIGURE 2. Hachamoni kaiok (broken prayer stick). The face (yellow, hair black with white feather on top) represents Iatiku; the feathers are eagle down, and under them is cotton; body brown; first necklace, shells; second, coral; third, coral beads with three abalone-shell pendants.


Click to enlarge
Plate 5, Figure 3

FIGURE 3. Koshari. Hair (black) tied with corn husks (yellow); earrings (black) of lizards; necklaces of dried apples (brown) and of rabbit skin (white and black); shoulder straps, bracelets, and anklets of spruce (green); girdle of buffalo-hoof rattles (black); turtle-shell rattles (white with black markings) on knees (ordinarily they are worn behind the leg but Koshari wears them wrong in front); feet painted (in black) to represent moccasins.
---
Next: Plate 6