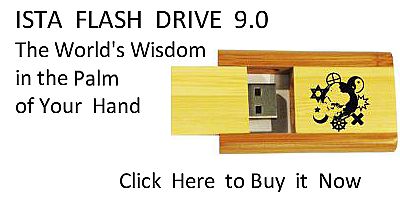 Sacred Texts
Islam
Index
Hypertext Qur'an
Unicode
Palmer
Pickthall
Yusuf Ali English
Rodwell
Sūra LXVI.: Taḥrīm, or Holding (something) to be Forbidden. Index
Previous
Next
---


The Holy Quran, tr. by Yusuf Ali, [1934], at sacred-texts.com
---
Sūra LXVI.: Taḥrīm, or Holding (something) to be Forbidden.
Section 2
---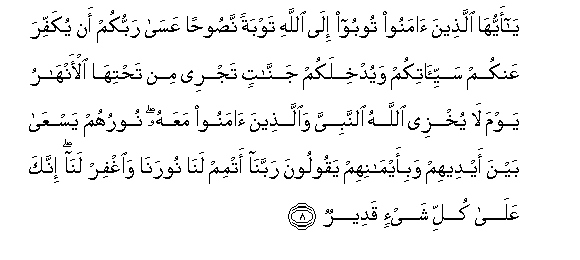 8. Ya ayyuha allatheena amanoo tooboo ila Allahi tawbatan nasoohan AAasa rabbukum an yukaffira AAankum sayyi-atikum wayudkhilakum jannatin tajree min tahtiha al-anharu yawma la yukhzee Allahu alnnabiyya waallatheena amanoo maAAahu nooruhum yasAAa bayna aydeehim wabi-aymanihim yaqooloona rabbana atmim lana noorana waighfir lana innaka AAala kulli shay-in qadeerun
8. O ye who believe!
Turn to God
With sincere repentance:
In the hope that
Your Lord will remove
From you your ills
And admit you to Gardens
Beneath which Rivers flow,—
The Day that God
Will not permit
To be humiliated
The Prophet and those
Who believe with him.
Their Light will run
Forward before them
And by their right hands,
While they say, "Our Lord!
Perfect our Light for us,
And grant us Forgiveness:
For Thou hast power
Over all things."
---

9. Ya ayyuha alnnabiyyu jahidi alkuffara waalmunafiqeena waoghluth AAalayhim wama/wahum jahannamu wabi/sa almaseeru
9. O Prophet! Strive hard
Against the Unbelievers
And the Hypocrites,
And be firm against them.
Their abode is Hell,—
An evil refuge (indeed).
---

10. Daraba Allahu mathalan lillatheena kafaroo imraata noohin waimraata lootin kanata tahta AAabdayni min AAibadina salihayni fakhanatahuma falam yughniya AAanhuma mina Allahi shay-an waqeela odkhula alnnara maAAa alddakhileena
10. God sets forth,
For an example
To the Unbelievers,
The wife of Noah
And the wife of Lūṭ:
They were (respectively)
Under two of our righteous
Servants, but they were
False to their (husbands),
And they profited nothing
Before God on their account,
But were told: "Enter ye
The Fire along with
(Others) that enter!"
---

11. Wadaraba Allahu mathalan lillatheena amanoo imraata firAAawna ith qalat rabbi ibni lee AAindaka baytan fee aljannati wanajjinee min firAAawna waAAamalihi wanajjinee mina alqawmi alththalimeena
11. And God sets forth,
As an example
To those who believe,
The wife of Pharaoh:
Behold she said:
"O my Lord! build
For me, in nearness
To Thee, a mansion
In the Garden,
And save me from Pharaoh
And his doings,
And save me from
Those that do wrong";
---

12. Wamaryama ibnata AAimrana allatee ahsanat farjaha fanafakhna feehi min roohina wasaddaqat bikalimati rabbiha wakutubihi wakanat mina alqaniteena
12. And Mary the daughter
Of 'Imrān, who guarded
Her chastity; and We
Breathed into (her body)
Of Our spirit; and she
Testified to the truth
Of the words of her Lord
And of his Revelations,
And was one of the
Devout (servants).