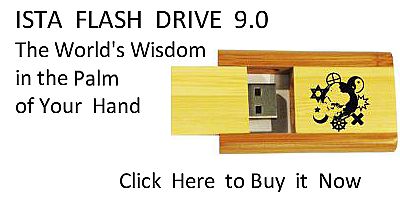 Sacred Texts
Islam
Index
Hypertext Qur'an
Unicode
Palmer
Pickthall
Yusuf Ali English
Rodwell
Sūra LVI.: Wāqi'a, or The Inevitable Event. Index
Previous
Next
---


The Holy Quran, tr. by Yusuf Ali, [1934], at sacred-texts.com
---
Sūra LVI.: Wāqi'a, or The Inevitable Event.
Section 1

1. When the Event Inevitable
Cometh to pass,
---

2. Laysa liwaqAAatiha kathibatun
2. Then will no (soul)
Entertain falsehood
Concerning its coming.
---

3. (Many) will it bring low;
(Many) will it exalt;
---

4. Itha rujjati al-ardu rajjan
4. When the earth shall be
Shaken to its depths,
---

5. And the mountains shall
Be crumbled to atoms,
---

6. Becoming dust scattered abroad,
---

7. Wakuntum azwajan thalathatan
7. And ye shall be sorted out
Into three classes.
---

8. Faas-habu almaymanati ma as-habu almaymanati
8. Then (there will be)
The Companions of
The Right Hand;—
What will be
The Companions of
The Right Hand?
---

9. Waas-habu almash-amati ma as-habu almash-amati
9. And the Companions of
The Left Hand,—
What will be
The Companions of
The Left Hand?
---

10. Waalssabiqoona alssabiqoona
10. And those Foremost
(In Faith) will be
Foremost (in the Hereafter).
---

11. These will be
Those Nearest to God:
---

12. In Gardens of Bliss:
---

13. Thullatun mina al-awwaleena
13. A number of people
From those of old,
---

14. Waqaleelun mina al-akhireena
14. And a few from those
Of later times.
---

15. (They will be) on Thrones
Encrusted (with gold
And precious stones),
---

16. Muttaki-eena AAalayha mutaqabileena
16. Reclining on them,
Facing each other.
---

17. Yatoofu AAalayhim wildanun mukhalladoona
17. Round about them will (serve)
Youths of perpetual (freshness),
---

18. Bi-akwabin waabareeqa waka/sin min maAAeenin
18. With goblets, (shining) beakers,
And cups (filled) out of
Clear-flowing fountains:
---

19. La yusaddaAAoona AAanha wala yunzifoona
19. No after-ache will they
Receive therefrom, nor will they
Suffer intoxication:
---

20. Wafakihatin mimma yatakhayyaroona
20. And with fruits,
Any that they may select;
---

21. Walahmi tayrin mimma yashtahoona
21. And the flesh of fowls,
Any that they may desire.
---

22. And (there will be) Companions
With beautiful, big,
And lustrous eyes,—
---

23. Kaamthali allu/lui almaknooni
23. Like unto Pearls
Well-guarded.
---

24. Jazaan bima kanoo yaAAmaloona
24. A Reward for the Deeds
Of their past (Life).
---

25. La yasmaAAoona feeha laghwan wala ta/theeman
25. No frivolity will they
Hear therein, nor any
Taint of ill,—
---

26. Illa qeelan salaman salaman
26. Only the saying,
"Peace! Peace".
---

27. Waas-habu alyameeni ma as-habu alyameeni
27. The Companions of
The Right Hand,—
What will be
The Companions of
The Right Hand?
---

28. (They will be) among
Lote-trees without thorns,
---

29. Among Ṭalḥ trees
With flowers (or fruits)
Piled one above another,—
---

30. In shade long-extended,
---

31. By water flowing constantly,
---

32. And fruit in abundance.
---

33. La maqtooAAatin wala mamnooAAatin
33. Whose season is not limited,
Nor (supply) forbidden,
---

34. And on Thrones (of Dignity),
Raised high.
---

35. Inna ansha/nahunna inshaan
35. We have created
(their Companions)
Of special creation.
---

36. And made them
Virgin-pure (and undefiled),—
---

37. Beloved (by nature),
Equal in age,—
---

38. For the Companions
Of the Right Hand.