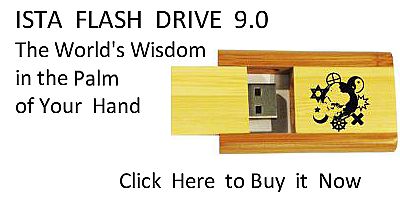 Sacred Texts
Islam
Index
Hypertext Qur'an
Unicode
Palmer
Pickthall
Yusuf Ali English
Rodwell
Sūra XLIX.: Ḥujurāt, or the Inner Apartments. Index
Previous
Next
---


The Holy Quran, tr. by Yusuf Ali, [1934], at sacred-texts.com
---
Sūra XLIX.: Ḥujurāt, or the Inner Apartments.
Section 1

1. Ya ayyuha allatheena amanoo la tuqaddimoo bayna yadayi Allahi warasoolihi waittaqoo Allaha inna Allaha sameeAAun AAaleemun
1. O ye who believe!
Put not yourselves forward
Before God and His Apostle;
But fear God: for God
Is He Who hears
And knows all things.
---

2. Ya ayyuha allatheena amanoo la tarfaAAoo aswatakum fawqa sawti alnnabiyyi wala tajharoo lahu bialqawli kajahri baAAdikum libaAAdin an tahbata aAAmalukum waantum la tashAAuroona
2. O ye who believe!
Raise not your voices!
Above the voice of the Prophet,
Nor speak aloud to him
In talk, as ye may
Speak aloud to one another,
Lest your deeds become!
Vain and ye perceive not.
---

3. Inna allatheena yaghuddoona aswatahum AAinda rasooli Allahi ola-ika allatheena imtahana Allahu quloobahum lilttaqwa lahum maghfiratun waajrun AAatheemun
3. Those that lower their voice
In the presence of
God's Apostle,—their hearts
Has God tested for piety:
For them is Forgiveness
And a great Reward.
---

4. Inna allatheena yunadoonaka min wara-i alhujurati aktharuhum la yaAAqiloona
4. Those who shout out
To thee from without
The Inner Apartments—
Most of them lack understanding.
---

5. Walaw annahum sabaroo hatta takhruja ilayhim lakana khayran lahum waAllahu ghafoorun raheemun
5. If only they had patience
Until thou couldst
Come out to them,
It would be best
For them: but God is
Oft-Forgiving, Most Merciful.
---

6. Ya ayyuha allatheena amanoo in jaakum fasiqun binaba-in fatabayyanoo an tuseeboo qawman bijahalatin fatusbihoo AAala ma faAAaltum nadimeena
6. O ye who believe!
If a wicked person comes
To you with any news,
Ascertain the truth, lest
Ye harm people unwittingly,
And afterwards become
Full of repentance for
What ye have done.
---

7. WaiAAlamoo anna feekum rasoola Allahi law yuteeAAukum fee katheerin mina al-amri laAAanittum walakinna Allaha habbaba ilaykumu al-eemana wazayyanahu fee quloobikum wakarraha ilaykumu alkufra waalfusooqa waalAAisyana ola-ika humu alrrashidoona
7. And know that among you
Is God's Apostle: were he,
In many matters, to follow
Your (wishes), ye would
Certainly fall into misfortune:
But God has endeared
The Faith to you, and
Has made it beautiful
In your hearts, and He
Has made hateful to you
Unbelief, wickedness, and
Rebellion: such indeed are
Those who walk in righteousness;—
---

8. Fadlan mina Allahi waniAAmatan waAllahu AAaleemun hakeemun
8. A grace and favour
From God; and God
Is full of Knowledge
And Wisdom.
---

9. Wa-in ta-ifatani mina almu/mineena iqtataloo faaslihoo baynahuma fa-in baghat ihdahuma AAala al-okhra faqatiloo allatee tabghee hatta tafee-a ila amri Allahi fa-in faat faaslihoo baynahuma bialAAadli waaqsitoo inna Allaha yuhibbu almuqsiteena
9. If two parties among
The Believers fall into
A quarrel, make ye peace
Between them: but if
One of them transgresses
Beyond bounds against the other,
Then fight ye (all) against
The one that transgresses
Until it complies with
The command of God;
But if it complies, then
Make peace between them
With justice, and be fair:
For God loves those
Who are fair (and just).
---

10. Innama almu/minoona ikhwatun faaslihoo bayna akhawaykum waittaqoo Allaha laAAallakum turhamoona
10. The Believers are but
A single Brotherhood:
So make peace and
Reconciliation between your
Two (contending) brothers;
And fear God, that ye
May receive Mercy.