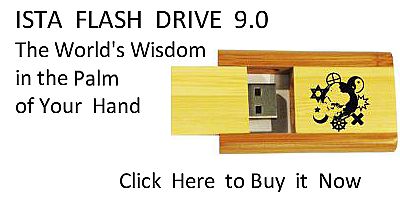 Sacred Texts
Islam
Index
Hypertext Qur'an
Unicode
Palmer
Pickthall
Yusuf Ali English
Rodwell
Sūra XXXI.: Luqmān (the Wise). Index
Previous
Next
---


The Holy Quran, tr. by Yusuf Ali, [1934], at sacred-texts.com
---
Sūra XXXI.: Luqmān (the Wise).
Section 2
---

12. Walaqad atayna luqmana alhikmata ani oshkur lillahi waman yashkur fa-innama yashkuru linafsihi waman kafara fa-inna Allaha ghaniyyun hameedun
12. We bestowed (in the past)
Wisdom on Luqmān:
"Show (thy) gratitude to God."
Any who is (so) grateful
Does so to the profit
Of his own soul: but if
Any is ungrateful, verily
God is free of all wants,
Worthy of all praise.
---

13. Wa-ith qala luqmanu liibnihi wahuwa yaAAithuhu ya bunayya la tushrik biAllahi inna alshshirka lathulmun AAatheemun
13. Behold, Luqmān said
To his son by way of
Instruction: "O my son!
Join not in worship
(Others) with God: for
False worship is indeed
The highest wrong-doing."
---

14. Wawassayna al-insana biwalidayhi hamalat-hu ommuhu wahnan AAala wahnin wafisaluhu fee AAamayni ani oshkur lee waliwalidayka ilayya almaseeru
14. And We have enjoined on man
(To be good) to his parents:
In travail upon travail
Did his mother bear him,
And in years twain
Was his weaning: (hear
The command), "Show gratitude
To Me and to thy parents:
To Me is (thy final) Goal.
---

15. Wa-in jahadaka AAala an tushrika bee ma laysa laka bihi AAilmun fala tutiAAhuma wasahibhuma fee alddunya maAAroofan waittabiAA sabeela man anaba ilayya thumma ilayya marjiAAukum faonabbi-okum bima kuntum taAAmaloona
15. "But if they strive
To make thee join
In worship with Me
Things of which thou hast
No knowledge, obey them not;
Yet bear them company
In this life with justice
(And consideration), and follow
The way of those who
Turn to Me (in love):
In the End the return
Of you all is to Me,
And I will tell you
The truth (and meaning)
Of all that ye did."
---

16. Ya bunayya innaha in taku mithqala habbatin min khardalin fatakun fee sakhratin aw fee alssamawati aw fee al-ardi ya/ti biha Allahu inna Allaha lateefun khabeerun
16. "O my son!" (said Luqmān),
"If there be (but) the weight
Of a mustard-seed and
It were (hidden) in a rock,'
Or (anywhere) in the heavens or
On earth, God will bring it
Forth: for God understands'
The finest mysteries, (and)
Is well-acquainted (with them).
---

17. Ya bunayya aqimi alssalata wa/mur bialmaAAroofi wainha AAani almunkari waisbir AAala ma asabaka inna thalika min AAazmi al-omoori
17. "O my son! establish
Regular prayer, enjoin what is
Just, and forbid what is wrong:
And bear with patient constancy
Whate'er betide thee; for this
Is firmness (of purpose)
In (the conduct of) affairs.
---

18. Wala tusaAAAAir khaddaka lilnnasi wala tamshi fee al-ardi marahan inna Allaha la yuhibbu kulla mukhtalin fakhoorin
18. "And swell not thy cheek
(For pride) at men,
Nor walk in insolence
Through the earth;
For God loveth not
Any arrogant boaster.
---

19. Waiqsid fee mashyika waoghdud min sawtika inna ankara al-aswati lasawtu alhameeri
19. "And be moderate
In thy pace, and lower
Thy voice; for the harshest
Of sounds without doubt
Is the braying of the ass."