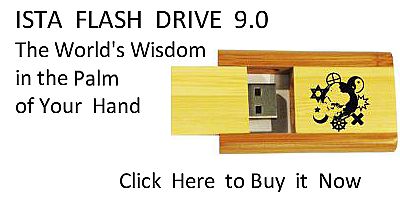 Sacred Texts
Islam
Index
Hypertext Qur'an
Unicode
Palmer
Pickthall
Yusuf Ali English
Rodwell
Sūra XX.: Ṭā-Hā. (Mystic Letters, Ṭ. H.) Index
Previous
Next
---


The Holy Quran, tr. by Yusuf Ali, [1934], at sacred-texts.com
---
Sūra XX.: Ṭā-Hā. (Mystic Letters, Ṭ. H.)
Section 7
---

116. Wa-ith qulna lilmala-ikati osjudoo li-adama fasajadoo illa ibleesa aba
116. When We said to the angels,
"Prostrate yourselves to Adam",
They prostrated themselves, but not
Iblīs: he refused.
---

117. Faqulna ya adamu inna hatha AAaduwwun laka walizawjika fala yukhrijannakuma mina aljannati fatashqa
117. Then We said: "O Adam!
Verily, this is an enemy
To thee and thy wife:
So let him not get you
Both out of the Garden,
So that thou art landed
In misery.''
---

118. Inna laka alla tajooAAa feeha wala taAAra
118. "There is therein (enough provision)
For thee not to go hungry
Nor to go naked,
---

119. Waannaka la tathmao feeha wala tadha
119. "Nor to suffer from thirst,
Nor from the sun's heat."
---

120. Fawaswasa ilayhi alshshaytanu qala ya adamu hal adulluka AAala shajarati alkhuldi wamulkin la yabla
120. But Satan whispered evil
To him: he said, "O Adam!
Shall I lead thee to
The Tree of Eternity
And to a kingdom
That never decays?"
---

121. Faakala minha fabadat lahuma saw-atuhuma watafiqa yakhsifani AAalayhima min waraqi aljannati waAAasa adamu rabbahu faghawa
121. In the result, they both
Ate of the tree, and so
Their nakedness appeared
To them: they began to sew
Together, for their covering,
Leaves from the Garden:
Thus did Adam disobey
His Lord, and allow himself
To be seduced.
---

122. Thumma ijtabahu rabbuhu fataba AAalayhi wahada
122. But his Lord chose him
(For His Grace): He turned
To him, and gave him guidance.
---

123. Qala ihbita minha jameeAAan baAAdukum libaAAdin AAaduwwun fa-imma ya/tiyannakum minnee hudan famani ittabaAAa hudaya fala yadillu wala yashqa
123. He said: "Get ye down,
Both of you,—all together,
From the Garden, with enmity
One to another: but if,
As is sure, there comes to you
Guidance from Me, whosoever
Follows My guidance, will not
Lose his way, nor fall
Into misery.
---

124. Waman aAArada AAan thikree fa-inna lahu maAAeeshatan dankan wanahshuruhu yawma alqiyamati aAAman
124. "But whosoever turns away
From My Message, verily
For him is a life narrowed
Down, and We shall raise
Him up blind on the Day
Of Judgment."
---

125. Qala rabbi lima hashartanee aAAma waqad kuntu baseeran
125. He will say: "O my Lord!
Why hast thou raised me
Up blind, while I had
Sight (before)?"
---

126. Qala kathalika atatka ayatuna fanaseetaha wakathalika alyawma tunsa
126. (God) will say: "Thus
Didst thou, when Our Signs
Came unto thee, disregard
Them: so wilt thou,
This day, be disregarded."
---

127. Wakathalika najzee man asrafa walam yu/min bi-ayati rabbihi walaAAathabu al-akhirati ashaddu waabqa
127. And thus do We recompense
Him who transgresses beyond bounds
And believes not in the Signs
Of his Lord: and the Penalty
Of the Hereafter is far more
Grievous and more enduring.
---

128. Afalam yahdi lahum kam ahlakna qablahum mina alqurooni yamshoona fee masakinihim inna fee thalika laayatin li-olee alnnuha
128. Is it not a warning to such
Men (to call to mind)
How many generations before them
We destroyed, in whose haunts
They (now) move? Verily,
In this are Signs for men
Endued with understanding.