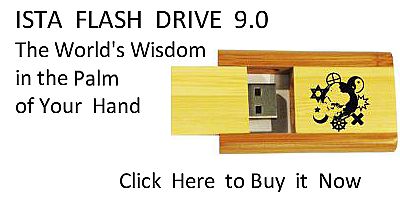 Sacred Texts
Islam
Index
Hypertext Qur'an
Unicode
Palmer
Pickthall
Yusuf Ali English
Rodwell
Sūra XVI.: Naḥl or The Bee. Index
Previous
Next
---


The Holy Quran, tr. by Yusuf Ali, [1934], at sacred-texts.com
---
Sūra XVI.: Naḥl or The Bee.
Section 16
---

120. Inna ibraheema kana ommatan qanitan lillahi haneefan walam yaku mina almushrikeena
120. Abraham was indeed a model,
Devoutly obedient to God,
(And) true in faith, and he
Joined not gods with God:
---

121. Shakiran li-anAAumihi ijtabahu wahadahu ila siratin mustaqeemin
121. He showed his gratitude
For the favours of God,
Who chose him, and guided him
To a Straight Way.
---

122. Waataynahu fee alddunya hasanatan wa-innahu fee al-akhirati lamina alssaliheena
122. And We gave him Good
In this world, and he will be,
In the Hereafter, in the ranks
Of the Righteous,''
---

123. Thumma awhayna ilayka ani ittabiAA millata ibraheema haneefan wama kana mina almushrikeena
123. So We have taught thee
The inspired (message),
"Follow the ways of Abraham
The True in Faith, and he
Joined not gods with God."
---

124. Innama juAAila alssabtu AAala allatheena ikhtalafoo feehi wa-inna rabbaka layahkumu baynahum yawma alqiyamati feema kanoo feehi yakhtalifoona
124. The Sabbath was only made
(Strict) for those who disagreed
(As to its observance);
But God will judge between them
On the Day of Judgment,
As to their differences,
---

125. OdAAu ila sabeeli rabbika bialhikmati waalmawAAithati alhasanati wajadilhum biallatee hiya ahsanu inna rabbaka huwa aAAlamu biman dalla AAan sabeelihi wahuwa aAAlamu bialmuhtadeena
125. Invite (all) to the Way
Of thy Lord with wisdom
And beautiful preaching;
And argue with them
In ways that are best
And most gracious:
For thy Lord knoweth best,
Who have strayed from His Path,
And who receive guidance.
---

126. Wa-in AAaqabtum faAAaqiboo bimithli ma AAooqibtum bihi wala-in sabartum lahuwa khayrun lilssabireena
126. And if ye do catch them out,
Catch them out no worse
Than they catch you out:
But if ye show patience,
That is indeed the best (course)
For those who are patient.
---

127. Waisbir wama sabruka illa biAllahi wala tahzan AAalayhim wala taku fee dayqin mimma yamkuroona
127. And do thou be patient,
For thy patience is but
From God; nor grieve over them:
And distress not thyself
Because of their plots.
---

128. Inna Allaha maAAa allatheena ittaqaw waallatheena hum muhsinoona
128. For God is with those
Who restrain themselves,
And those who do good.