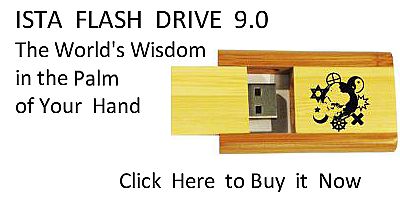 Sacred Texts
Islam
Index
Hypertext Qur'an
Unicode
Palmer
Pickthall
Yusuf Ali English
Rodwell
Sūra IX.: Tauba (Repentance) or Barāat (Immunity). Index
Previous
Next
---


The Holy Quran, tr. by Yusuf Ali, [1934], at sacred-texts.com
---
Sūra IX.: Tauba (Repentance) or Barāat (Immunity).
Section 6
---

38. Ya ayyuha allatheena amanoo ma lakum itha qeela lakumu infiroo fee sabeeli Allahi iththaqaltum ila al-ardi aradeetum bialhayati alddunya mina al-akhirati fama mataAAu alhayati alddunya fee al-akhirati illa qaleelun
38. O ye who believe! what
Is the matter with you,
That, when ye are asked
To go forth in the Cause of God,
Ye cling heavily to the earth?
Do ye prefer the life
Of this world to the Hereafter?
But little is the comfort
Of this life, as compared
With the Hereafter.
---

39. Illa tanfiroo yuAAaththibkum AAathaban aleeman wayastabdil qawman ghayrakum wala tadurroohu shay-an waAllahu AAala kulli shay-in qadeerun
39. Unless ye go forth,
He will punish you
With a grievous penalty,
And put others in your place;
But Him ye would not harm
In the least. For God
Hath power over all things.
---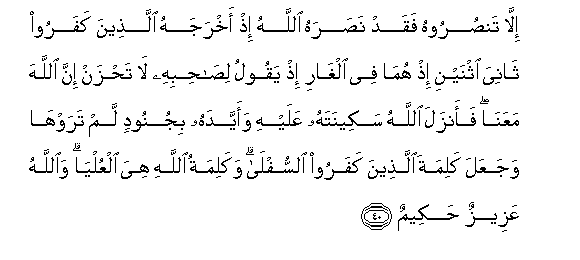 40. Illa tansuroohu faqad nasarahu Allahu ith akhrajahu allatheena kafaroo thaniya ithnayni ith huma fee alghari ith yaqoolu lisahibihi la tahzan inna Allaha maAAana faanzala Allahu sakeenatahu AAalayhi waayyadahu bijunoodin lam tarawha wajaAAala kalimata allatheena kafaroo alssufla wakalimatu Allahi hiya alAAulya waAllahu AAazeezun hakeemun
40. If ye help not (your Leader),
(it is no matter): for God
Did indeed help him,
When the Unbelievers
Drove him out: he had
No more than one companion:
They two were in the Cave,
And he said to his companion,
"Have no fear, for God
Is with us": then God
Sent down His peace upon him,
And strengthened him with forces
Which ye saw not, and humbled
To the depths the word
Of the Unbelievers.
But the word of God
Is exalted to the heights:
For God is Exalted in might, Wise
---

41. Infiroo khifafan wathiqalan wajahidoo bi-amwalikum waanfusikum fee sabeeli Allahi thalikum khayrun lakum in kuntum taAAlamoona
41. Go ye forth, (whether equipped)
Lightly or heavily, and strive
And struggle, with your goods
And your persons, in the Cause
Of God. That is best
For you, if ye (but) knew.
---

42. Law kana AAaradan qareeban wasafaran qasidan laittabaAAooka walakin baAAudat AAalayhimu alshshuqqatu wasayahlifoona biAllahi lawi istataAAna lakharajna maAAakum yuhlikoona anfusahum waAllahu yaAAlamu innahum lakathiboona
42. If there had been
Immediate gain (in sight),
And the journey easy,
They would (all) without doubt
Have followed thee, but
The distance was long,
(And weighed) on them.
They would indeed swear
By God, "If we only could,
We should certainly
Have come out with you:"
They would destroy their own souls;
For God doth know
That they are certainly lying.