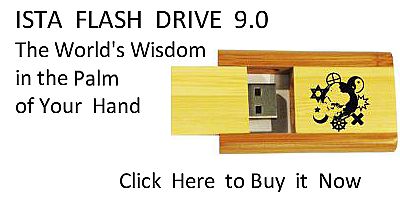 Sacred Texts
Islam
Index
Hypertext Qur'an
Unicode
Palmer
Pickthall
Yusuf Ali English
Rodwell
Sūra VII.: A'rāf, or the Heights Index
Previous
Next
---


The Holy Quran, tr. by Yusuf Ali, [1934], at sacred-texts.com
---
Sūra VII.: A'rāf, or the Heights
Section 20
---

158. Qul ya ayyuha alnnasu innee rasoolu Allahi ilaykum jameeAAan allathee lahu mulku alssamawati waal-ardi la ilaha illa huwa yuhyee wayumeetu faaminoo biAllahi warasoolihi alnnabiyyi al-ommiyyi allathee yu/minu biAllahi wakalimatihi waittabiAAoohu laAAallakum tahtadoona
158. Say: "O men! I am sent
Unto you all, as the Apostle
Of God, to Whom belongeth
The dominion of the heavens
And the earth: there is no god
But He: it is He that giveth
Both life and death. So believe
In God and His Apostle,
The unlettered Prophet,
Who believeth in God
And His Words: follow him
That (so) ye may be guided."
---

159. Wamin qawmi moosa ommatun yahdoona bialhaqqi wabihi yaAAdiloona
159. Of the people of Moses
There is a section
Who guide and do justice
In the light of truth.
---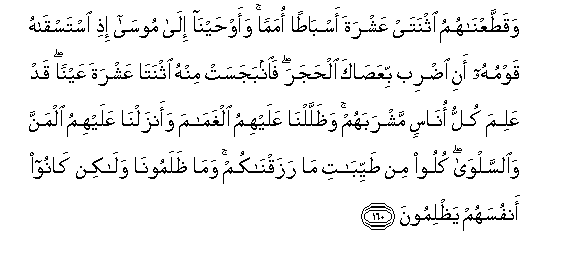 160. WaqattaAAnahumu ithnatay AAashrata asbatan omaman waawhayna ila moosa ithi istasqahu qawmuhu ani idrib biAAasaka alhajara fainbajasat minhu ithnata AAashrata AAaynan qad AAalima kullu onasin mashrabahum wathallalna AAalayhimu alghamama waanzalna AAalayhimu almanna waalssalwa kuloo min tayyibati ma razaqnakum wama thalamoona walakin kanoo anfusahum yathlimoona
160. We divided them into twelve Tribes
Or nations. We directed
Moses by inspiration,
When his (thirsty) people asked
Him for water: "Strike the rock
With thy staff": out of it
There gushed forth twelve springs:
Each group knew its own place
For water. We gave them
The shade of clouds, and sent
Down to them manna and quails,
(Saying): "Eat of the good things
We have provided for you":
(But they rebelled); to Us
They did no harm, but
They harmed their own souls.
---

161. Wa-ith qeela lahumu oskunoo hathihi alqaryata wakuloo minha haythu shi/tum waqooloo hittatun waodkhuloo albaba sujjadan naghfir lakum khatee-atikum sanazeedu almuhsineena
161. And remember it was
Said to them:
"Dwell in this town
And eat therein as ye wish,
But say the word of humility
And enter the gate
In a posture of humility:
We shall forgive you
Your faults; We shall increase
(The portion of) those who do good."
---

162. Fabaddala allatheena thalamoo minhum qawlan ghayra allathee qeela lahum faarsalna AAalayhim rijzan mina alssama-i bima kanoo yathlimoona
162. But the transgressors among them
Changed the word from that
Which had been given them
So we sent on them
A plague from heaven.
For that they repeatedly transgressed.