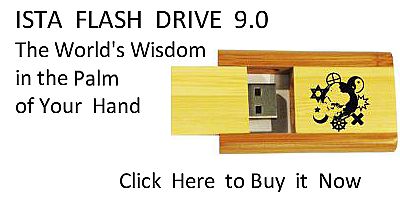 Sacred Texts
Islam
Index
Hypertext Qur'an
Unicode
Palmer
Pickthall
Yusuf Ali English
Rodwell
Sūra V.: Māïda, or The Table Spread. Index
Previous
Next
---


The Holy Quran, tr. by Yusuf Ali, [1934], at sacred-texts.com
---
Sūra V.: Māïda, or The Table Spread.
Section 12
---

87. Ya ayyuha allatheena amanoo la tuharrimoo tayyibati ma ahalla Allahu lakum wala taAAtadoo inna Allaha la yuhibbu almuAAtadeena
87. 90 O ye who believe!
Make not unlawful
The good things which God
Hath made lawful for you,
But commit no excess:
For God loveth not
Those given to excess.
---

88. Wakuloo mimma razaqakumu Allahu halalan tayyiban waittaqoo Allaha allathee antum bihi mu/minoona
88. 91 Eat of the things which
God hath provided for you,
Lawful and good; but fear
God, in Whom ye believe.
---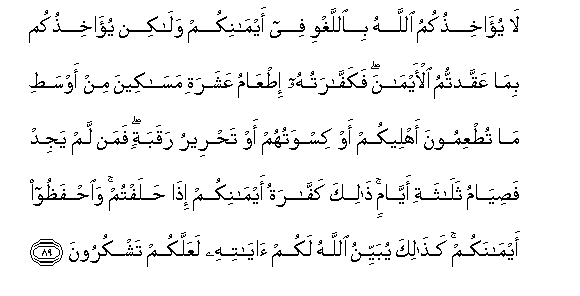 89. La yu-akhithukumu Allahu biallaghwi fee aymanikum walakin yu-akhithukum bima AAaqqadtumu al-aymana fakaffaratuhu itAAamu AAasharati masakeena min awsati ma tutAAimoona ahleekum aw kiswatuhum aw tahreeru raqabatin faman lam yajid fasiyamu thalathati ayyamin thalika kaffaratu aymanikum itha halaftum waihfathoo aymanakum kathalika yubayyinu Allahu lakum ayatihi laAAallakum tashkuroona
89. 92 God will not call you
To account for what is
Futile in your oaths,
But He will call you
To account for your deliberate
Oaths: for expiation, feed
Ten indigent persons,
On a scale of the average
For the food of your families;
Or clothe them; or give
A slave his freedom.
If that is beyond your means,
Fast for three days.
That is the expiation
For the oaths ye have sworn.
But keep to your oaths.
Thus doth God make clear
To you His Signs, that ye
May be grateful.
---

90. Ya ayyuha allatheena amanoo innama alkhamru waalmaysiru waal-ansabu waal-azlamu rijsun min AAamali alshshaytani faijtaniboohu laAAallakum tuflihoona
90. 93 O ye who believe!
Intoxicants and gambling,
(Dedication of) stones,
And (divination by) arrows,
Are an abomination,—
Of Satan's handiwork:
Eschew such (abomination),
That ye may prosper.
---

91. Innama yureedu alshshaytanu an yooqiAAa baynakumu alAAadawata waalbaghdaa fee alkhamri waalmaysiri wayasuddakum AAan thikri Allahi waAAani alssalati fahal antum muntahoona
91. 94 Satan's plan is (but)
To excite enmity and hatred
Between you, with intoxicants
And gambling, and hinder you
From the remembrance
Of God, and from prayer:
Will ye not then abstain?
---

92. WaateeAAoo Allaha waateeAAoo alrrasoola waihtharoo fa-in tawallaytum faiAAlamoo annama AAala rasoolina albalaghu almubeenu
92. 95 Obey God, and obey the Apostle,
And beware (of evil):
If ye do turn back,
Know ye that it is
Our Apostle's duty
To proclaim (the Message)
In the clearest manner.
---

93. Laysa AAala allatheena amanoo waAAamiloo alssalihati junahun feema taAAimoo itha ma ittaqaw waamanoo waAAamiloo alssalihati thumma ittaqaw waamanoo thumma ittaqaw waahsanoo waAllahu yuhibbu almuhsineena
93. 96 On those who believe
And do deeds of righteousness
There is no blame
For what they ate (in the past),
When they guard themselves
From evil, and believe,
And do deeds of righteousness,—
(Or) again, guard themselves
From evil and believe,—
(Or) again, guard themselves
From evil and do good.
For God loveth those
Who do good.