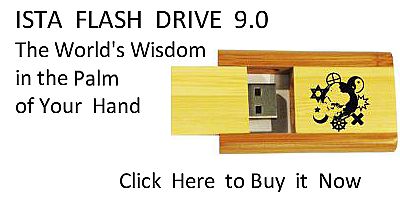 Sacred Texts
Islam
Index
Hypertext Qur'an
Unicode
Palmer
Pickthall
Yusuf Ali English
Rodwell
Sūra IV.: Nisāa, or The Women. Index
Previous
Next
---


The Holy Quran, tr. by Yusuf Ali, [1934], at sacred-texts.com
---
Sūra IV.: Nisāa, or The Women.
Section 24
---

172. Lan yastankifa almaseehu an yakoona AAabdan lillahi wala almala-ikatu almuqarraboona waman yastankif AAan AAibadatihi wayastakbir fasayahshuruhum ilayhi jameeAAan
172. Christ disdaineth not
To serve and worship God,
Nor do the angels, those
Nearest (to God):
Those who disdain
His worship and are arrogant,—
He will gather them all
Together unto Himself
To (answer).
---

173. Faamma allatheena amanoo waAAamiloo alssalihati fayuwaffeehim ojoorahum wayazeeduhum min fadlihi waamma allatheena istankafoo waistakbaroo fayuAAaththibuhum AAathaban aleeman wala yajidoona lahum min dooni Allahi waliyyan wala naseeran
173. But to those who believe
And do deeds of righteousness,
He will give their (due)
Rewards,—and more,
Out of His bounty:
But those who are
Disdainful and arrogant,
He will punish
With a grievous penalty;
Nor will they find,
Besides God, any
To protect or help them.
---

174. Ya ayyuha alnnasu qad jaakum burhanun min rabbikum waanzalna ilaykum nooran mubeenan
174. O mankind! Verily
There hath come to you
A convincing proof
From your Lord:
For We have sent unto you
A light (that is) manifest.
---

175. Faamma allatheena amanoo biAllahi waiAAtasamoo bihi fasayudkhiluhum fee rahmatin minhu wafadlin wayahdeehim ilayhi siratan mustaqeeman
175. Then those who believe
In God, and hold fast
To Him,—soon will He
Admit them to Mercy
And Grace from Himself,
And guide them to Himself
By a straight Way.
---

176. Yastaftoonaka quli Allahu yufteekum fee alkalalati ini imruon halaka laysa lahu waladun walahu okhtun falaha nisfu ma taraka wahuwa yarithuha in lam yakun laha waladun fa-in kanata ithnatayni falahuma alththuluthani mimma taraka wa-in kanoo ikhwatan rijalan wanisaan falilththakari mithlu haththi alonthayayni yubayyinu Allahu lakum an tadilloo waAllahu bikulli shay-in AAaleemun
176. They ask thee
For a legal decision.
Say: God directs (thus)
About those who leave
No descendants or ascendants
As heirs. If it is a man
That dies, leaving a sister
But no child, she shall
Have half the inheritance:
If (such a deceased was)
A woman, who left no child,
Her brother takes her inheritance:
If there are two sisters,
They shall have two-thirds
Of the inheritance
(Between them): if there are
Brothers and sisters, (they share),
The male having twice
The share of the female.
Thus doth God make clear
To you (His law), lest
Ye err. And God
Hath knowledge of all things.