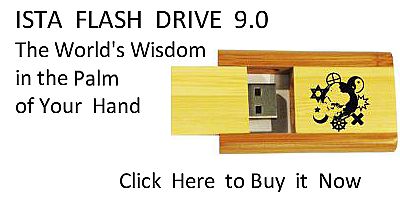 Sacred Texts
Islam
Index
Hypertext Qur'an
Unicode
Palmer
Pickthall
Yusuf Ali English
Rodwell
Sūra IV.: Nisāa, or The Women. Index
Previous
Next
---


The Holy Quran, tr. by Yusuf Ali, [1934], at sacred-texts.com
---
Sūra IV.: Nisāa, or The Women.
Section 6
---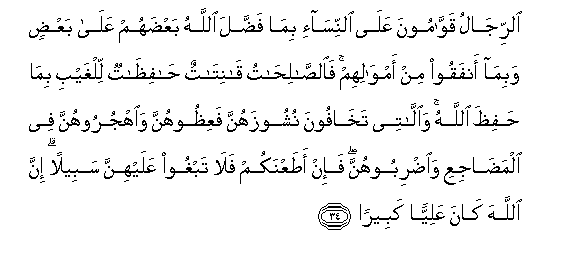 34. Alrrijalu qawwamoona AAala alnnisa-i bima faddala Allahu baAAdahum AAala baAAdin wabima anfaqoo min amwalihim faalssalihatu qanitatun hafithatun lilghaybi bima hafitha Allahu waallatee takhafoona nushoozahunna faAAithoohunna waohjuroohunna fee almadajiAAi waidriboohunna fa-in ataAAnakum fala tabghoo AAalayhinna sabeelan inna Allaha kana AAaliyyan kabeeran
34. Men are the protectors
And maintainers of women,
Because God has given
The one more (strength)
Than the other, and because
They support them
From their means.
Therefore the righteous women
Are devoutly obedient, and guard
In (the husband's) absence
What God would have them guard.
As to those women
On whose part ye fear
Disloyalty and ill-conduct,
Admonish them (first),
(Next), refuse to share their beds,
(And last) beat them (lightly);
But if they return to obedience,
Seek not against them
Means (of annoyance):
For God is Most High,
Great (above you all).
---

35. Wa-in khiftum shiqaqa baynihima faibAAathoo hakaman min ahlihi wahakaman min ahliha in yureeda islahan yuwaffiqi Allahu baynahuma inna Allaha kana AAaleeman khabeeran
35. If ye fear a breach
Between them twain,
Appoint (two) arbiters,
One from his family,
And the other from hers;
If they wish for peace,
God will cause
Their reconciliation:
For God hath full knowledge,
And is acquainted
With all things.
---

36. WaoAAbudoo Allaha wala tushrikoo bihi shay-an wabialwalidayni ihsanan wabithee alqurba waalyatama waalmasakeeni waaljari thee alqurba waaljari aljunubi waalssahibi bialjanbi waibni alssabeeli wama malakat aymanukum inna Allaha la yuhibbu man kana mukhtalan fakhooran
36. serve God, and join not
Any partners with Him;
And do good
To parents, kinsfolk,
Orphans, those in need,
Neighbours who are near,
Neighbours who are strangers,
The Companion by your side,
The way-farer (ye meet),
And what your right hands possess:
For God loveth not
The arrogant, the vainglorious;—
---

37. Allatheena yabkhaloona waya/muroona alnnasa bialbukhli wayaktumoona ma atahumu Allahu min fadlihi waaAAtadna lilkafireena AAathaban muheenan
37. (Nor) those who are niggardly
Or enjoin niggardliness on others,
Or hide the bounties
Which God hath bestowed
On them; for We have prepared,
For those who resist Faith,
A Punishment that steeps
Them in contempt;—
---

38. Waallatheena yunfiqoona amwalahum ri-aa alnnasi wala yu/minoona biAllahi wala bialyawmi al-akhiri waman yakuni alshshaytanu lahu qareenan fasaa qareenan
38. Not those who spend
Of their substance, to be seen
Of men, but have no faith
In God and the Last Day:
If any take the Evil One
For their intimate,
What a dreadful intimate he is!
---

39. Wamatha AAalayhim law amanoo biAllahi waalyawmi al-akhiri waanfaqoo mimma razaqahumu Allahu wakana Allahu bihim AAaleeman
39. And what burden
Were it on them if they
Had faith in God
And in the Last Day,
And they spent
Out of what God hath
Given them for sustenance?
For God hath full
Knowledge of them.
---

40. Inna Allaha la yathlimu mithqala tharratin wa-in taku hasanatan yudaAAifha wayu/ti min ladunhu ajran AAatheeman
40. God is never unjust
In the least degree:
If there is any good (done),
He doubleth it,
And giveth from His own
Presence a great reward.
---

41. Fakayfa itha ji/na min kulli ommatin bishaheedin waji/na bika AAala haola-i shaheedan
41. How then if We brought
From each People a witness,
And We brought thee
As a witness against
These People!
---

42. Yawma-ithin yawaddu allatheena kafaroo waAAasawoo alrrasoola law tusawwa bihimu al-ardu wala yaktumoona Allaha hadeethan
42. On that day
Those who reject Faith
And disobey the Apostle
Will wish that the earth
Were made one with them:
But never will they hide
A single fact from God!