Sacred Texts
Classics
Sappho
Index
Previous
Next
---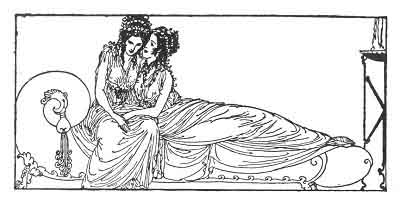 THE MAD EMBRACE
Love me, not with smiles and flutes or plaited flowers, but with your heart and tears, as I adore you with my bosom and my sobs.
When your breasts alternate with mine, when I feel your very life touching my own, when your knees rise up behind me, my panting mouth no longer even knows the way to yours.
Clasp me as I clasp you! See, the lamp has just gone out, we toss about in the night; but I press your moving body and I hear your ceaseless plaint. . .
Moan! moan! moan! oh, woman! Eros drags us now in heavy pain. You'll suffer less upon this bed in bringing forth a child than you'll agonize in bringing forth your love.
---
Next: The Heart