Sacred Texts
Classics
Sappho
Index
Previous
Next
---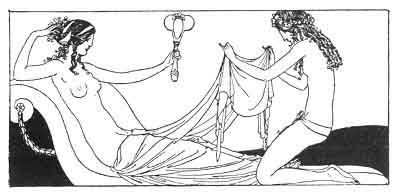 THE WEDDING
The wedding feast was given in the morning, in Acalanthis' house whom she had taken for a mother. Mnasidika wore a milk-white veil, and I the virile tunic.
Then after, in the midst of twenty women she donned her festal robes. Perfumed with bakkaris and spread with gold-dust, her cool and rippling skin attracted furtive hands.
In her leafy chamber she awaited me, as a bridegroom. And I led her out in a little two-wheeled cart, seated between me and the nymphagogue. 76 One of her little breasts burned in my hand.
They sang the nuptial song: the flutes sang madly. And carrying Mnasidika, my arms beneath her knees and round her shoulders, I passed the threshold, strewn with blushing roses.
---
Next: The Living Past