Sacred Texts
Judaism
Index
Next
---
THE SACRED BOOKS AND EARLY LITERATURE OF THE EAST
VOLUME IV
MEDIEVAL HEBREW
THE MIDRASH
THE KABBALAH
In Translations by

DR. W. WYNN WESTCOTT, D.P.H., Magus of the Rosicrucian Society; S. L. MATHERS, M.A.; VERY REV. HERMAN ADLER, LL.D., President of Jews' College; ADOLF NEUBAUER, Ph.D., Reader of Rabbinical Literature, Oxford University; REV. SAMUEL RAPAPORT, Rabbi of Cape Colony; DR. MICHAEL FRIEDLANDER, Ph.D.; and other authorities on Hebraic and Kabbalistic lore

.

With a Brief Bibliography by

ADOLPH S. OKO, Librarian of Hebrew Union College

.

With an Historical Survey and Descriptions by
PROF. CHARLES F. HORNE, PH.D.
PARKE, AUSTIN, AND LIPSCOMB, INC.
NEW YORK LONDON
[1917]
Scanned at Sacred-texts.com, December 2002. J.B. Hare, redactor. This book is in the public domain. This file may be redistributed for any non-commercial purpose, provided this attribution is left intact.
REDACTORS NOTE: This etext does not include the extracts from The Kabbalah Unveiled; a comprehensive etext of which can be found at http://www.sacred-texts.com/jud/tku/index.htm.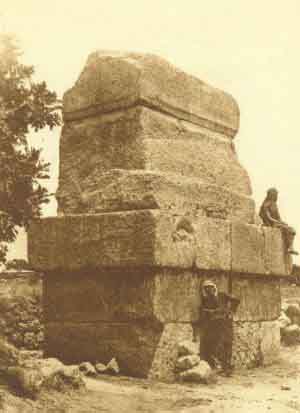 The ancient tomb near the Phœnician coast, which tradition says contains the remains of Hiram, King of Tyre, the friend of Solomon.
"Let there be light."--GENESIS I, 3.
"There never was a false god, nor was there ever really a false religion, unless you call a child a false man."--MAX MÜLLER.
---
Next: Contents