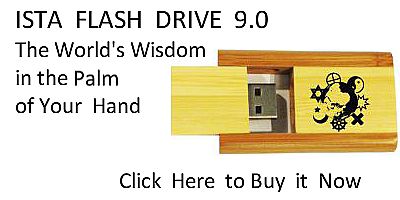 Sacred Texts
Islam
Index
Hypertext Qur'an
Unicode
Palmer
Pickthall
Yusuf Ali English
Rodwell
Sūra XXIX.: 'Ankabūt, or the Spider Index
Previous
Next
---


The Holy Quran, tr. by Yusuf Ali, [1934], at sacred-texts.com
---
Sūra XXIX.: 'Ankabūt, or the Spider
Section 5
---

45. Otlu ma oohiya ilayka mina alkitabi waaqimi alssalata inna alssalata tanha AAani alfahsha-i waalmunkari walathikru Allahi akbaru waAllahu yaAAlamu ma tasnaAAoona
45. Recite what is sent
Of the Book by inspiration
To thee, and establish
Regular Prayer: for Prayer
Restrains from shameful
And unjust deeds;
And remembrance of God
Is the greatest (thing in life)
Without doubt. And God knows
The (deeds) that ye do.
---

46. Wala tujadiloo ahla alkitabi illa biallatee hiya ahsanu illa allatheena thalamoo minhum waqooloo amanna biallathee onzila ilayna waonzila ilaykum wa-ilahuna wa-ilahukum wahidun wanahnu lahu muslimoona
46. And dispute ye not
With the People of the Book,
Except with means better
(Than mere disputation), unless
It be with those of them
Who inflict wrong (and injury):
But say, "We believe
In the Revelation which has
Come down to us and in that
Which came down to you;
Our God and your God
Is One; and it is to Him
We bow (in Islam)."
---

47. Wakathalika anzalna ilayka alkitaba faallatheena ataynahumu alkitaba yu/minoona bihi wamin haola-i man yu/minu bihi wama yajhadu bi-ayatina illa alkafiroona
47. And thus (it is) that We
Have sent down the Book
To thee. So the People
Of the Book believe therein,
As also do some of these
(Pagan Arabs): and none
But Unbelievers reject Our Signs.
---

48. Wama kunta tatloo min qablihi min kitabin wala takhuttuhu biyameenika ithan lairtaba almubtiloona
48. And thou vast not (able)
To recite a Book before
This (Book came), nor art thou
(Able) to transcribe it
With thy right hand:
In that case, indeed, would
The talkers of vanities
Have doubted.
---

49. Bal huwa ayatun bayyinatun fee sudoori allatheena ootoo alAAilma wama yajhadu bi-ayatina illa alththalimoona
49. Nay, here are Signs
Self-evident in the hearts
Of those endowed with
knowledge:
And none but the unjust
Reject Our Signs.
---

50. Waqaloo lawla onzila AAalayhi ayatun min rabbihi qul innama al-ayatu AAinda Allahi wa-innama ana natheerun mubeenun
50. Yet they say: "Why
Are not Signs sent down
To him from his Lord?"
Say: "The Signs are indeed
With God: and I am
Indeed a clear Warner.
---

51. Awa lam yakfihim anna anzalna AAalayka alkitaba yutla AAalayhim inna fee thalika larahmatan wathikra liqawmin yu/minoona
51. And is it not enough
For them that We have
Sent down to thee
The Book which is rehearsed
To them? Verily, in it
Is Mercy and a Reminder
To those who believe.