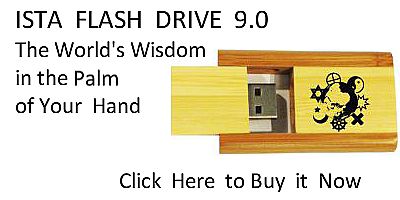 Sacred Texts
Islam
Index
Hypertext Qur'an
Unicode
Palmer
Pickthall
Yusuf Ali English
Rodwell
Sūra XXIX.: 'Ankabūt, or the Spider Index
Previous
Next
---


The Holy Quran, tr. by Yusuf Ali, [1934], at sacred-texts.com
---
Sūra XXIX.: 'Ankabūt, or the Spider
Section 2
---

14. Walaqad arsalna noohan ila qawmihi falabitha feehim alfa sanatin illa khamseena AAaman faakhathahumu alttoofanu wahum thalimoona
14. We (once) sent Noah
To his people, and he tarried
Among them a thousand years
Less fifty: but the Deluge
Overwhelmed them while they
(Persisted in) sin.
---

15. Faanjaynahu waas-haba alssafeenati wajaAAalnaha ayatan lilAAalameena
15. But We saved him
And the Companions
Of the Ark, and We made
The (Ark) a Sign
For all Peoples!
---

16. Wa-ibraheema ith qala liqawmihi oAAbudoo Allaha waittaqoohu thalikum khayrun lakum in kuntum taAAlamoona
16. And (We also saved)
Abraham: behold, he said
To his people, "Serve God
And fear Him: that
Will be best for you
If ye understand!
---

17. Innama taAAbudoona min dooni Allahi awthanan watakhluqoona ifkan inna allatheena taAAbudoona min dooni Allahi la yamlikoona lakum rizqan faibtaghoo AAinda Allahi alrrizqa waoAAbudoohu waoshkuroo lahu ilayhi turjaAAoona
17. "For ye do worship idols
Besides God, and ye invent
Falsehood. The things that ye
Worship besides God have
No power to give you sustenance:
Then seek ye sustenance
From God, serve Him,
And be grateful to Him:
To Him will be your return.
---

18. Wa-in tukaththiboo faqad kaththaba omamun min qablikum wama AAala alrrasooli illa albalaghu almubeenu
18. "And if ye reject (the Message),
So did generations before you:
And the duty of the apostle
Is only to preach publicly
(And clearly)."
---

19. Awa lam yaraw kayfa yubdi-o Allahu alkhalqa thumma yuAAeeduhu inna thalika AAala Allahi yaseerun
19. See they not how God
Originates creation, then
Repeats it: truly that
Is easy for God.
---

20. Qul seeroo fee al-ardi faonthuroo kayfa badaa alkhalqa thumma Allahu yunshi-o alnnash-ata al-akhirata inna Allaha AAala kulli shay-in qadeerun
20. Say: "Travel through the earth
And see how God did
Originate creation; so will
God produce a later creation:
For God has power
Over all things.
---

21. YuAAaththibu man yashao wayarhamu man yashao wa-ilayhi tuqlaboona
21. "He punishes whom He pleases,
And He grants mercy to whom
He pleases, and towards Him
Are ye turned.
---

22. Wama antum bimuAAjizeena fee al-ardi wala fee alssama-i wama lakum min dooni Allahi min waliyyin wala naseerin
22. "Not on earth nor in heaven
Will ye be able (fleeing)
To frustrate (His Plan),
Nor have ye, besides God,
Any protector or helper."