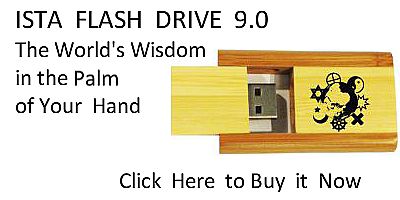 Sacred Texts
Islam
Index
Hypertext Qur'an
Unicode
Palmer
Pickthall
Yusuf Ali English
Rodwell
Sūra XXI.: Anbiyāa, or The Prophets Index
Previous
Next
---


The Holy Quran, tr. by Yusuf Ali, [1934], at sacred-texts.com
---
Sūra XXI.: Anbiyāa, or The Prophets
Section 4
---

42. Qul man yaklaokum biallayli waalnnahari mina alrrahmani bal hum AAan thikri rabbihim muAAridoona
42. Say, "Who can keep
You safe by night and by day
From (the Wrath of) (God)
Most Gracious?" Yet they
Turn away from the mention
Of their Lord.
---

43. Am lahum alihatun tamnaAAuhum min doonina la yastateeAAoona nasra anfusihim wala hum minna yushaboona
43. Or have they gods that
Can guard them from Us?
They have no power to aid
Themselves, nor can they
Be defended from Us.
---

44. Bal mattaAAna haola-i waabaahum hatta tala AAalayhimu alAAumuru afala yarawna anna na/tee al-arda nanqusuha min atrafiha afahumu alghaliboona
44. Nay, We gave the good things
Of this life to these men
And their fathers until
The period grew long for them;
See they not that We
Gradually reduce the land
(In their control) from
Its outlying borders? Is it
Then they who will win?
---

45. Qul innama onthirukum bialwahyi wala yasmaAAu alssummu aldduAAaa itha ma yuntharoona
45. Say, "I do but warn you
According to revelation":
But the deaf will not hear
The call, (even) when
They are warned!
---

46. Wala-in massat-hum nafhatun min AAathabi rabbika layaqoolunna ya waylana inna kunna thalimeena
46. If but a breath of the Wrath
Of thy Lord do touch them,
They will then say, "Woe
To us! we did wrong indeed!"
---

47. WanadaAAu almawazeena alqista liyawmi alqiyamati fala tuthlamu nafsun shay-an wa-in kana mithqala habbatin min khardalin atayna biha wakafa bina hasibeena
47. We shall set up scales
Of justice for the day
Of Judgment, so that
Not a soul will be dealt with
Unjustly in the least.
And if there be
(No more than) the weight
Of a mustard seed,
We will bring it (to account):
And enough are We
To take account.
---

48. Walaqad atayna moosa waharoona alfurqana wadiyaan wathikran lilmuttaqeena
48. In the past We granted
To Moses and Aaron
The Criterion (for judgment),
And a Light and a Message
For those who would do right,—
---

49. Allatheena yakhshawna rabbahum bialghaybi wahum mina alssaAAati mushfiqoona
49. Those who fear their Lord
In their most secret thoughts,
And who hold the Hour
(Of Judgment) in awe.
---

50. Wahatha thikrun mubarakun anzalnahu afaantum lahu munkiroona
50. And this is a blessed
Message which We have
Sent down: will ye then
Reject it?
---

51. Walaqad atayna ibraheema rushdahu min qablu wakunna bihi AAalimeena
51. We bestowed aforetime
On Abraham his rectitude
Of conduct, and well were we
Acquainted with him.
---

52. Ith qala li-abeehi waqawmihi ma hathihi alttamatheelu allatee antum laha AAakifoona
52. Behold! he said
To his father and his people
"What are these images,
To which ye are
(So assiduously) devoted?"
---

53. Qaloo wajadna abaana laha AAabideena
53. They said, "We found
Our fathers worshipping them."
---

54. Qala laqad kuntum antum waabaokum fee dalalin mubeenin
54. He said, "Indeed ye
Have been made in manifest
Error—ye and your fathers."
---

55. Qaloo aji/tana bialhaqqi am anta mina allaAAibeena
55. They said, "Have you
Brought us the Truth,
Or are you one
Of those who jest?"
---

56. Qala bal rabbukum rabbu alssamawati waal-ardi allathee fatarahunna waana AAala thalikum mina alshshahideena
56. He said, "Nay, your Lord
Is the Lord of the heavens
And the earth, He Who
Created them (from nothing):
And I am a witness
To this (truth).
---

57. WataAllahi laakeedanna asnamakum baAAda an tuwalloo mudbireena
57. "And by god, I have
A plan for your idols—
After ye go away
And turn your backs"…
---

58. FajaAAalahum juthathan illa kabeeran lahum laAAallahum ilayhi yarjiAAoona
58. So he broke them to pieces,
(All) but the biggest of them,
That they might turn
(And address themselves) to it.
---

59. Qaloo man faAAala hatha bi-alihatina innahu lamina alththalimeena
59. They said, "Who has
Done this to our gods?
He must indeed be
Some man of impiety!"
---

60. Qaloo samiAAna fatan yathkuruhum yuqalu lahu ibraheemu
60. They said, "We heard
A youth talk of them:
He is called Abraham."
---

61. Qaloo fa/too bihi AAala aAAyuni alnnasi laAAallahum yashhadoona
61. They said, "Then bring him
Before the eyes of the people,
That they may bear witness:"
---

62. Qaloo aanta faAAalta hatha bi-alihatina ya ibraheemu
62. They said, "Art thou
The one that did this
With our gods, O Abraham?"
---

63. Qala bal faAAalahu kabeeruhum hatha fais-aloohum in kanoo yantiqoona
63. He said: "Nay, this
Was done by —
This is their biggest one!
Ask them, if they
Can speak intelligently!"
---

64. FarajaAAoo ila anfusihim faqaloo innakum antumu alththalimoona
64. So they turned to themselves
And said, "Surely ye
Are the ones in the wrong!
---

65. Thumma nukisoo AAala ruoosihim laqad AAalimta ma haola-i yantiqoona
65. Then were they confounded
With shame: (they said),
"Thou knowest full well that
These (idols) do not speak!"
---

66. Qala afataAAbudoona min dooni Allahi ma la yanfaAAukum shay-an wala yadurrukum
66. (Abraham) said, "Do ye then
Worship, besides God,
Things that can neither
Be of any good to you
Nor do you harm?
---

67. Offin lakum walima taAAbudoona min dooni Allahi afala taAAqiloona
67. "Fie upon you, and upon
The things that ye worship
Besides God! Have ye
No sense?"…
---

68. Qaloo harriqoohu waonsuroo alihatakum in kuntum faAAileena
68. They said, "Burn him
And protect your gods,
If ye do (anything at all)!"
---

69. Qulna ya naru koonee bardan wasalaman AAala ibraheema
69. We said, "O Fire!
Be thou cool,
And (a means of) safety
For Abraham!"
---

70. Waaradoo bihi kaydan fajaAAalnahumu al-akhsareena
70. Then they sought a stratagem
Against him: but We
Made them the ones
That lost most!
---

71. Wanajjaynahu walootan ila al-ardi allatee barakna feeha lilAAalameena
71. But We delivered him
And (his nephew) Lūt
(And directed them) to the land
Which We have blessed
For the nations.
---

72. Wawahabna lahu ishaqa wayaAAqooba nafilatan wakullan jaAAalna saliheena
72. And We bestowed on him Isaac
And, as an additional gift,
(A grandson), Jacob, and We
Made righteous men of every one
(Of them).
---

73. WajaAAalnahum a-immatan yahdoona bi-amrina waawhayna ilayhim fiAAla alkhayrati wa-iqama alssalati wa-eetaa alzzakati wakanoo lana AAabideena
73. And We made them
Leaders, guiding (men) by
Our Command, and We
Sent them inspiration
To do good deeds,
To establish regular prayers,
And to practise regular charity;
And they constantly served
Us (and Us only).
---

74. Walootan ataynahu hukman waAAilman wanajjaynahu mina alqaryati allatee kanat taAAmalu alkhaba-itha innahum kanoo qawma saw-in fasiqeena
74. And to Lūt, too,
We gave Judgment and Knowledge,
And We saved him
From the town which practised
Abominations: truly they were
A people given to Evil,
A rebellious people.
---

75. Waadkhalnahu fee rahmatina innahu mina alssaliheena
75. And We admitted him
To Our Mercy: for he
Was one of the Righteous.