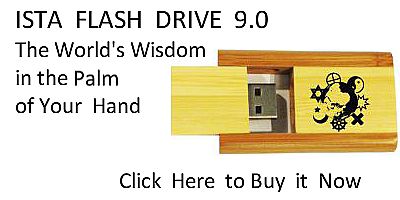 Sacred Texts
Islam
Index
Hypertext Qur'an
Unicode
Palmer
Pickthall
Yusuf Ali English
Rodwell
Sūra X.: Yūnus, or Jonah. Index
Previous
Next
---


The Holy Quran, tr. by Yusuf Ali, [1934], at sacred-texts.com
---
Sūra X.: Yūnus, or Jonah.
Section 7
---

61. Wama takoonu fee sha/nin wama tatloo minhu min qur-anin wala taAAmaloona min AAamalin illa kunna AAalaykum shuhoodan ith tufeedoona feehi wama yaAAzubu AAan rabbika min mithqali tharratin fee al-ardi wala fee alssama-i wala asghara min thalika wala akbara illa fee kitabin mubeenun
61. In whatever business thou
Mayest be, and whatever portion
Thou mayest be reciting
From the Qur-ān,—and whatever
Deed ye (mankind) may be doing,—
We are Witnesses thereof
When ye are deeply engrossed
Therein. Nor is hidden
From thy Lord (so much as)
The weight of an atom
On the earth or in heaven.
And not the least
And not the greatest
Of these things but are recorded
In a clear Record.
---

62. Ala inna awliyaa Allahi la khawfun AAalayhim wala hum yahzanoona
62. Behold! verily on the friends
Of God there is no fear,
Nor shall they grieve;
---

63. Allatheena amanoo wakanoo yattaqoona
63. Those who believe
And (constantly) guard
Against evil;—
---

64. Lahumu albushra fee alhayati alddunya wafee al-akhirati la tabdeela likalimati Allahi thalika huwa alfawzu alAAatheemu
64. For them are Glad Tidings,
In the life of the Present
And in the Hereafter:
No change can there be
In the Words of God.
This is indeed
The supreme Felicity.
---

65. Wala yahzunka qawluhum inna alAAizzata lillahi jameeAAan huwa alssameeAAu alAAaleemu
65. Let not their speech
Grieve thee: for all power
And honour belong to God:
It is He Who heareth
And knoweth (all things).
---

66. Ala inna lillahi man fee alssamawati waman fee al-ardi wama yattabiAAu allatheena yadAAoona min dooni Allahi shurakaa in yattabiAAoona illa alththanna wa-in hum illa yakhrusoona
66. Behold! verily to God
Belong all creatures,
In the heavens and on earth.
What do they follow
Who worship as His "partners"
Other than God? They follow
Nothing but fancy, and
They do nothing but lie.
---

67. Huwa allathee jaAAala lakumu allayla litaskunoo feehi waalnnahara mubsiran inna fee thalika laayatin liqawmin yasmaAAoona
67. He it is that hath
Made you the Night
That ye may rest therein,
And the Day to make
Things visible (to you).
Verily in this are Signs
For those who listen
(To His Message).
---

68. Qaloo ittakhatha Allahu waladan subhanahu huwa alghaniyyu lahu ma fee alssamawati wama fee al-ardi in AAindakum min sultanin bihatha ataqooloona AAala Allahi ma la taAAlamoona
68. They say, "God hath begotten
A son!"—Glory be to Him!
He is Self-Sufficient! His
Are all things in the heavens
And on earth! No warrant
Have ye for this! Say ye
About God what ye know not?
---

69. Qul inna allatheena yaftaroona AAala Allahi alkathiba la yuflihoona
69. Say: "Those who invent
A lie against God
Will never prosper."
---

70. MataAAun fee alddunya thumma ilayna marjiAAuhum thumma nutheequhumu alAAathaba alshshadeeda bima kanoo yakfuroona
70. A little enjoyment
In this world!—
And then, to Us
Will be their return.
Then shall We make them
Taste the severest Penalty
For their blasphemies.