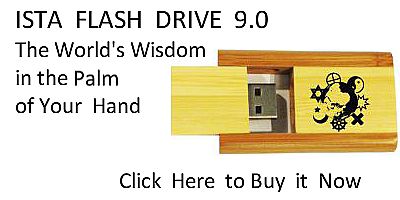 Sacred Texts
Islam
Index
Hypertext Qur'an
Unicode
Palmer
Pickthall
Yusuf Ali English
Rodwell
Sūra X.: Yūnus, or Jonah. Index
Previous
Next
---


The Holy Quran, tr. by Yusuf Ali, [1934], at sacred-texts.com
---
Sūra X.: Yūnus, or Jonah.
Section 5
---

41. Wa-in kaththabooka faqul lee AAamalee walakum AAamalukum antum baree-oona mimma aAAmalu waana baree-on mimma taAAmaloona
41. If they charge thee
With falsehood, say:
"My work to me,
And yours to you!
Ye are free from responsibility
For what I do, and I
For what ye do!"
---

42. Waminhum man yastamiAAoona ilayka afaanta tusmiAAu alssumma walaw kanoo la yaAAqiloona
42. Among them are some who
(Pretend to) listen to thee:
But canst thou make the deaf
To hear,—even though
They are without understanding?
---

43. Waminhum man yanthuru ilayka afaanta tahdee alAAumya walaw kanoo la yubsiroona
43. And among them are some
Who look at thee:
But canst thou guide
The blind,—even though
They will not see?
---

44. Inna Allaha la yathlimu alnnasa shay-an walakinna alnnasa anfusahum yathlimoona
44. Verily God will not deal
Unjustly with man in aught:
It is man that wrongs
His own soul.
---

45. Wayawma yahshuruhum kaan lam yalbathoo illa saAAatan mina alnnahari yataAAarafoona baynahum qad khasira allatheena kaththaboo biliqa-i Allahi wama kanoo muhtadeena
45. One day He will
Gather them together:
(It will be) as if
They had tarried
But an hour of a day:
They will recognise each other:
Assuredly those will be lost
Who denied the meeting
With God and refused
To receive true guidance.
---

46. Wa-imma nuriyannaka baAAda allathee naAAiduhum aw natawaffayannaka fa-ilayna marjiAAuhum thumma Allahu shaheedun AAala ma yafAAaloona
46. Whether We show thee
(Realised in thy life-time)
Some part of what We
Promise them,—or We
Take thy soul (to Our Mercy)
(Before that),—in any case,
To Us is their return:
Ultimately God is witness.
To all that they do.
---

47. Walikulli ommatin rasoolun fa-itha jaa rasooluhum qudiya baynahum bialqisti wahum la yuthlamoona
47. To every people (was sent)
An Apostle: when their Apostle
Comes (before them), the matter
Will be judged between them
With justice, and they
Will not be wronged.
---

48. Wayaqooloona mata hatha alwaAAdu in kuntum sadiqeena
48. They say: "When
Will this promise
Come to pass,
If ye speak the truth?"
---

49. Qul la amliku linafsee darran wala nafAAan illa ma shaa Allahu likulli ommatin ajalun itha jaa ajaluhum fala yasta/khiroona saAAatan wala yastaqdimoona
49. Say: "I have no power
Over any harm or profit
To myself except as God
Willeth. To every People
Is a term appointed:
When their term is reached,
Not an hour can they cause
Delay, nor (an hour) can they
Advance (it in anticipation)."
---

50. Qul araaytum in atakum AAathabuhu bayatan aw naharan matha yastaAAjilu minhu almujrimoona
50. Say: "Do ye see,
If His punishment should come
To you by night or by day,—
What portion of it
Would the Sinners
Wish to hasten?
---

51. Athumma itha ma waqaAAa amantum bihi al-ana waqad kuntum bihi tastaAAjiloona
51. "Would ye then believe in it
At last, when it actually cometh
To pass? (It will then be said:)
'Ah! now? and ye wanted
(Aforetime) to hasten it on!'
---

52. Thumma qeela lillatheena thalamoo thooqoo AAathaba alkhuldi hal tujzawna illa bima kuntum taksiboona
52. "At length will be said
To the wrong-doers: 'Taste ye
The enduring punishment!
Ye get but the recompense
Of what ye earned!'"
---

53. Wayastanbi-oonaka ahaqqun huwa qul ee warabbee innahu lahaqqun wama antum bimuAAjizeena
53. They seek to be informed
By thee: "Is that true?"
Say: "Aye! by my Lord!
It is the very truth!
And ye cannot frustrate it!"