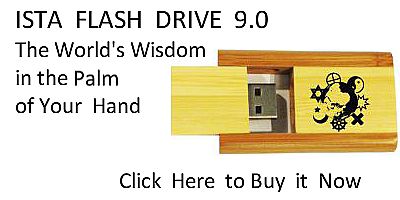 Sacred Texts
Islam
Index
Hypertext Qur'an
Unicode
Palmer
Pickthall
Yusuf Ali English
Rodwell
Sūra X.: Yūnus, or Jonah. Index
Previous
Next
---


The Holy Quran, tr. by Yusuf Ali, [1934], at sacred-texts.com
---
Sūra X.: Yūnus, or Jonah.
Section 3
---

21. Wa-itha athaqna alnnasa rahmatan min baAAdi darraa massat-hum itha lahum makrun fee ayatina quli Allahu asraAAu makran inna rusulana yaktuboona ma tamkuroona
21. When We make mankind
Taste of some mercy after
Adversity hath touched them,
Behold! they take to plotting
Against Our Signs! Say:
"Swifter to plan is God!"
Verily, Our messengers record
All the plots that ye make!
---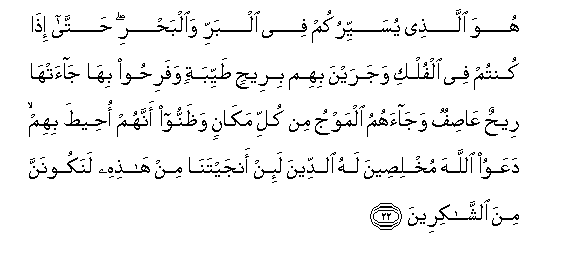 22. Huwa allathee yusayyirukum fee albarri waalbahri hatta itha kuntum fee alfulki wajarayna bihim bireehin tayyibatin wafarihoo biha jaat-ha reehun AAasifun wajaahumu almawju min kulli makanin wathannoo annahum oheeta bihim daAAawoo Allaha mukhliseena lahu alddeena la-in anjaytana min hathihi lanakoonanna mina alshshakireena
22. He it is who enableth you
To traverse through land
And sea; so that ye even board
Ships;—they sail with them
With a favourable wind,
And they rejoice thereat;
Then comes a stormy wind
And the waves come to them
From all sides, and they think
They are being overwhelmed:
They cry unto God, sincerely
Offering (their) duty unto Him,
Saying, "If Thou dost deliver us
From this, we shall truly
Show our gratitude!"
---

23. Falamma anjahum itha hum yabghoona fee al-ardi bighayri alhaqqi ya ayyuha alnnasu innama baghyukum AAala anfusikum mataAAa alhayati alddunya thumma ilayna marjiAAukum fanunabbi-okum bima kuntum taAAmaloona
23. But when he delivereth them,
Behold! they transgress
Insolently through the earth
In defiance of right!
O mankind! your insolence
Is against your own souls,—
An enjoyment of the life
Of the Present: in the end,
To Us is your return,
And We shall show you
The truth of all that ye did.
---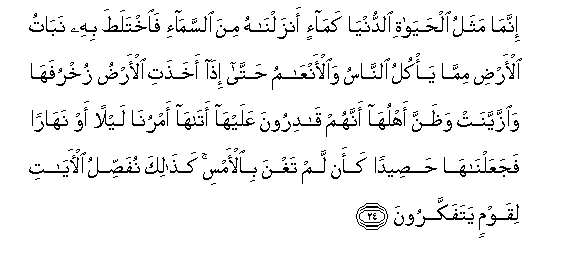 24. Innama mathalu alhayati alddunya kama-in anzalnahu mina alssama-i faikhtalata bihi nabatu al-ardi mimma ya/kulu alnnasu waal-anAAamu hatta itha akhathati al-ardu zukhrufaha waizzayyanat wathanna ahluha annahum qadiroona AAalayha ataha amruna laylan aw naharan fajaAAalnaha haseedan kaan lam taghna bial-amsi kathalika nufassilu al-ayati liqawmin yatafakkaroona
24. The likeness of the life
Of the Present is
As the rain which We
Send down from the skies:
By its mingling arises
The produce of the earth—
Which provides food
For men and animals:
(It grows) till the earth
Is clad with its golden
Ornaments and is decked out
(In beauty): the people to whom
It belongs think they have
All powers of disposal over it:
There reaches it Our command
By night or by day,
And We make it
Like a harvest clean-mown,
As if it had not flourished
Only the day before!
Thus do We explain
The Signs in detail
For those who reflect.
---
25. WaAllahu yadAAoo ila dari alssalami wayahdee man yashao ila siratin mustaqeemin
25. But God doth call
To the Home of Peace:
He doth guide whom He pleaseth
To a Way that is straight.
---

26. Lillatheena ahsanoo alhusna waziyadatun wala yarhaqu wujoohahum qatarun wala thillatun ola-ika as-habu aljannati hum feeha khalidoona
26. To those who do right
Is a goodly (reward)—
Yea, more (than in measure)!
No darkness nor shame
Shall cover their faces!
They are Companions of the Garden;
They will abide therein
(For aye)!
---
27. Waallatheena kasaboo alssayyi-ati jazao sayyi-atin bimithliha watarhaquhum thillatun ma lahum mina Allahi min AAasimin kaannama oghshiyat wujoohuhum qitaAAan mina allayli muthliman ola-ika as-habu alnnari hum feeha khalidoona
27. But those who have earned
Evil will have a reward
Of like evil: ignominy
Will cover their (faces):
No defender will they have
From (the wrath of) God:
Their faces will be covered,
As it were, with pieces
From the depth of the darkness
Of Night: they are Companions
Of the Fire: they will
Abide therein (for aye)!
---

28. Wayawma nahshuruhum jameeAAan thumma naqoolu lillatheena ashrakoo makanakum antum washurakaokum fazayyalna baynahum waqala shurakaohum ma kuntum iyyana taAAbudoona
28. One Day shall We gather them
All together. Then shall We say
To those who joined gods (with Us):
"To your place! ye and those
Ye joined as "partners"."
We shall separate them,
And their "partners" shall say:
"It was not us
That ye worshipped!
---

29. Fakafa biAllahi shaheedan baynana wabaynakum in kunna AAan AAibadatikum laghafileena
29. "Enough is God for a witness
Between us and you: we
Certainly knew nothing
Of your worship of us!"
---
30. Hunalika tabloo kullu nafsin ma aslafat waruddoo ila Allahi mawlahumu alhaqqi wadalla AAanhum ma kanoo yaftaroona
30. There will every soul prove
(The fruits of) the deeds
It sent before : they will
Be brought back to God
Their rightful Lord,
And their invented falsehoods
Will leave them in the lurch.