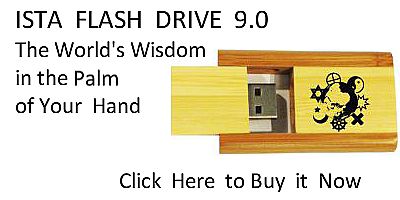 Sacred Texts
Islam
Index
Hypertext Qur'an
Unicode
Palmer
Pickthall
Yusuf Ali English
Rodwell
Sūra IV.: Nisāa, or The Women. Index
Previous
Next
---


The Holy Quran, tr. by Yusuf Ali, [1934], at sacred-texts.com
---
Sūra IV.: Nisāa, or The Women.
Section 20
---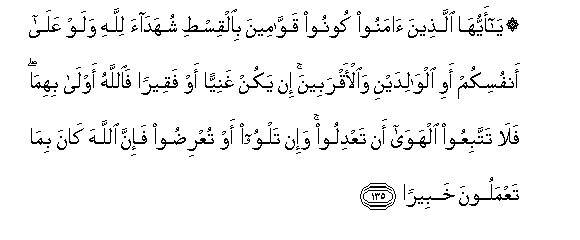 135. Ya ayyuha allatheena amanoo koonoo qawwameena bialqisti shuhadaa lillahi walaw AAala anfusikum awi alwalidayni waal-aqrabeena in yakun ghaniyyan aw faqeeran faAllahu awla bihima fala tattabiAAoo alhawa an taAAdiloo wa-in talwoo aw tuAAridoo fa-inna Allaha kana bima taAAmaloona khabeeran
135. O ye who believe!
Stand out firmly
For justice, as witnesses
To God, even as against
Yourselves, or your parents,
Or your kin, and whether
It be (against) rich or poor:
For God can best protect both.
Follow not the lusts
(Of your hearts), lest ye
Swerve, and if ye
Distort (justice) or decline
To do justice, verily
God is well-acquainted
With all that ye do.
---

136. Ya ayyuha allatheena amanoo aminoo biAllahi warasoolihi waalkitabi allathee nazzala AAala rasoolihi waalkitabi allathee anzala min qablu waman yakfur biAllahi wamala-ikatihi wakutubihi warusulihi waalyawmi al-akhiri faqad dalla dalalan baAAeedan
136. O ye who believe!
Believe in God
And His Apostle,
And the scripture which He
Hath sent to His Apostle
And the scripture which He sent
To those before (him)
Any who denieth God,
His angels, His Books,
His Apostles, and the Day
Of Judgment, hath gone
Far, far astray.
---

137. Inna allatheena amanoo thumma kafaroo thumma amanoo thumma kafaroo thumma izdadoo kufran lam yakuni Allahu liyaghfira lahum wala liyahdiyahum sabeelan
137. Those who believe,
Then reject Faith,
Then believe (again)
And (again) reject Faith,
And go on increasing
In Unbelief,—God
Will not forgive them
Nor guide them on the Way.
---

138. Bashshiri almunafiqeena bi-anna lahum AAathaban aleeman
138. To the Hypocrites give
The glad tidings that
There is for them
(But) a grievous Penalty;—
---

139. Allatheena yattakhithoona alkafireena awliyaa min dooni almu/mineena ayabtaghoona AAindahumu alAAizzata fa-inna alAAizzata lillahi jameeAAan
139. Yea, to those who take
For friends Unbelievers
Rather than Believers:
Is it honour they seek
Among them? Nay,—
All honour is with God.
---

140. Waqad nazzala AAalaykum fee alkitabi an itha samiAAtum ayati Allahi yukfaru biha wayustahzao biha fala taqAAudoo maAAahum hatta yakhoodoo fee hadeethin ghayrihi innakum ithan mithluhum inna Allaha jamiAAu almunafiqeena waalkafireena fee jahannama jameeAAan
140. Already has He sent you
Word in the Book, that when
Ye hear the Signs of God
Held in defiance and ridicule,
Ye are not to sit with them
Unless they turn to a different
Theme: if ye did, ye would be
Like them. For God will
Collect the Hypocrites and those
Who defy Faith—all in Hell;—
---

141. Allatheena yatarabbasoona bikum fa-in kana lakum fathun mina Allahi qaloo alam nakun maAAakum wa-in kana lilkafireena naseebun qaloo alam nastahwith AAalaykum wanamnaAAkum mina almu/mineena faAllahu yahkumu baynakum yawma alqiyamati walan yajAAala Allahu lilkafireena AAala almu/mineena sabeelan
141. (These are) the ones who
Wait and watch about you:
If ye do gain
A victory from God,
They say: "Were we not
With you?"—but if
The Unbelievers gain
A success, they say
(To them): "Did we not
Gain an advantage over you,
And did we not guard
You from the Believers?"
But God will judge
Betwixt you on the Day
Of Judgment. And never
Will God grant
To the Unbelievers
A way (to Triumph)
Over the Believers.