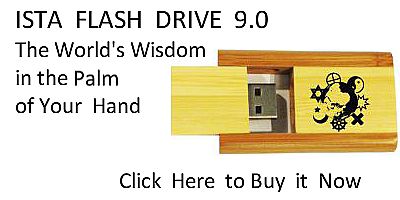 Sacred Texts
Islam
Index
Hypertext Qur'an
Unicode
Palmer
Pickthall
Yusuf Ali English
Rodwell
Sūra IV.: Nisāa, or The Women. Index
Previous
Next
---


The Holy Quran, tr. by Yusuf Ali, [1934], at sacred-texts.com
---
Sūra IV.: Nisāa, or The Women.
Section 13
---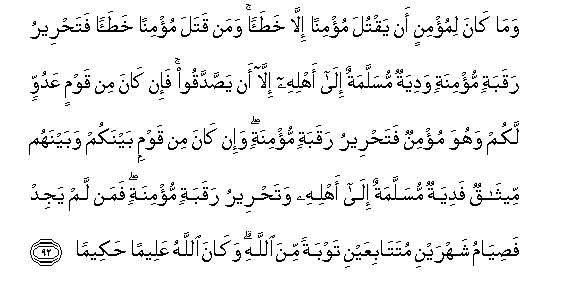 92. Wama kana limu/minin an yaqtula mu/minan illa khataan waman qatala mu/minan khataan fatahreeru raqabatin mu/minatin wadiyatun musallamatun ila ahlihi illa an yassaddaqoo fa-in kana min qawmin AAaduwwin lakum wahuwa mu/minun fatahreeru raqabatin mu/minatin wa-in kana min qawmin baynakum wabaynahum meethaqun fadiyatun musallamatun ila ahlihi watahreeru raqabatin mu/minatin faman lam yajid fasiyamu shahrayni mutatabiAAayni tawbatan mina Allahi wakana Allahu AAaleeman hakeeman
92. Never should a Believer
Kill a Believer; but
(If it so happens) by mistake,
(Compensation is due):
If one (so) kills a Believer,
It is ordained that he
Should free a believing slave,
And pay compensation
To the deceased's family,
Unless they remit it freely.
If the deceased belonged
To a people at war with you,
And he was a Believer,
The freeing of a believing slave
(Is enough). If he belonged
To a people with whom
Ye have a treaty of mutual
Alliance, compensation should
Be paid to his family,
And a believing slave be freed.
For those who find this
Beyond their means, (is prescribed)
A fast for two months
Running: by way of repentance
To God: for God hath
All knowledge and all wisdom.
---

93. Waman yaqtul mu/minan mutaAAammidan fajazaohu jahannamu khalidan feeha waghadiba Allahu AAalayhi walaAAanahu waaAAadda lahu AAathaban AAatheeman
93. 1f a man kills a Believer
Intentionally, his recompense
Is Hell, to abide therein
(For ever): and the wrath
And the curse of God
Are upon him, and
A dreadful penalty
Is prepared for him.
---

94. Ya ayyuha allatheena amanoo itha darabtum fee sabeeli Allahi fatabayyanoo wala taqooloo liman alqa ilaykumu alssalama lasta mu/minan tabtaghoona AAarada alhayati alddunya faAAinda Allahi maghanimu katheeratun kathalika kuntum min qablu famanna Allahu AAalaykum fatabayyanoo inna Allaha kana bima taAAmaloona khabeeran
94. O ye who believe!
When ye go abroad
In the cause of God,
Investigate carefully,
And say not to any one
Who offers you a salutation:
"Thou art none of a Believer!"
Coveting the perishable goods
Of this life: with God
Are profits and spoils abundant.
Even thus were ye yourselves
Before, till God conferred
On you His favours: therefore
Carefully investigate.
For God is well aware
Of all that ye do.
---

95. La yastawee alqaAAidoona mina almu/mineena ghayru olee alddarari waalmujahidoona fee sabeeli Allahi bi-amwalihim waanfusihim faddala Allahu almujahideena bi-amwalihim waanfusihim AAala alqaAAideena darajatan wakullan waAAada Allahu alhusna wafaddala Allahu almujahideena AAala alqaAAideena ajran AAatheeman
95. Not equal are those
Believers who sit (at home)
And receive no hurt,
And those who strive
And fight in the cause
Of God with their goods
And their persons.
God hath granted
A grade higher to those
Who strive and fight
With their goods and persons
Than to those who sit (at home).
Unto all (in Faith)
Hath God promised good:
But those who strive and fight
Hath He distinguished
Above those who sit (at home)
By a special reward,—
---

96. Darajatin minhu wamaghfiratan warahmatan wakana Allahu ghafooran raheeman
96. Ranks specially bestowed
By Him. And Forgiveness
And Mercy. For God is
Oft forgiving, Most Merciful.