---


The Chaldean Account of Genesis, by George Smith, [1876], at sacred-texts.com
---
THE
CHALDEAN ACCOUNT OF GENESIS.
CONTAINING
THE DESCRIPTION OF THE CREATION, THE FALL OF MAN,
THE DELUGE, THE TOWER OF BABEL, THE
TIMES OF THE PATRIARCHS,
AND NIMROD;
BABYLONIAN FABLES, AND LEGENDS OF THE GODS;
FROM THE CUNEIFORM INSCRIPTIONS.
BY GEORGE SMITH,
OF THE DEPARTMENT OF ORIENTAL ANTIQUITIES, BRITISH MUSEUM,
AUTHOR OF "HISTORY OF ASSURBANIPAL,"
"ASSYRIAN DISCOVERIES,"
ETC. ETC.
WITH ILLUSTRATIONS.
London: Thomas Scott
[1876]
Scanned, proofed and formatted at sacred-texts.com, by John Bruno Hare, December 2009. This text is in the public domain in the US because it was published prior to 1923.


Click to enlarge
FIGHT BETWEEN MERODACH (BEL) AND THE DRAGON.



Click to enlarge
Frontispiece



Click to enlarge
Title page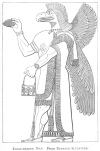 Click to enlarge
EAGLE-HEADED MAN. FROM NIMROUD SCULPTURE.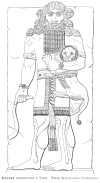 Click to enlarge
IZDUBAR STRANGLING A LION. FROM KHORSABAD SCULPTURE.